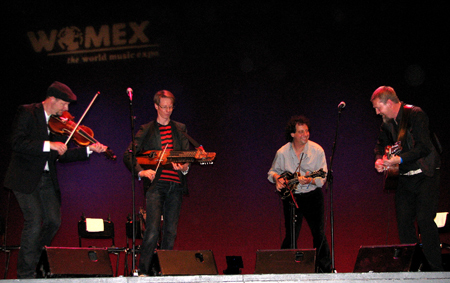 Over 60 artists from 14 countries will take the stage at the 2009 Vancouver Folk Music Festival, which will be held July 17, 18 & 19 of 2009 Jericho Beach Park, Vancouver. The sixty plus artists and groups performing this year represent a truly remarkable range of music styles, traditions and cultures. The artists and groups performing cover significant musical ground: from folk, world and roots/blues to every combination in between and beyond. There's traditional and cutting edge, acoustic and wired, music rooted in a single heritage or that merges myriad influences. They are coming from around the world and down the block. They're coming to make the 32nd Annual Vancouver Folk Music Festival a weekend to remember.
The 2009 Festival roster features artists both familiar and new. In addition to the artists noted above, the lineup includes: the pan-Polynesian sounds of Hawaii's HAPA; the potent Afro-Blues collaboration from Justin Adams & Juldeh Camara; virtuoso instrumentalists Darol Anger & Mike Marshall with Sweden's Väsen; the Norteño music of Los Misioneros del Norte; the outspoken vocals of Flint, Michigan's Lisa Garza; the thrilling voices and rhythms of Umalali from Belize (featured as the festival's image); Bellowhead – the UK's "best live band"; the African/world/reggae of Idy Oulu; the American string band tradition in The Ebony Hillbillies; the rebel dub poetry of Jamaica's Mutabaruka, and; the classic voice of B.C.'s own Roy Forbes. Now you know just about one-third of the lineup!
The Festival also offers: delicious food and refreshing beverage areas on-site, a Little Folks Village, Art Market, CD Tent & Festival Boutique and other fun and informative activities and entertainment in the park.
Vancouver Folk Music Festival – List of 2009 Artists and Groups:
Los de Abajo (Mexico) Multi-instrumental Latin ska, tropipunk & reggae rhythms fueled by a quest for social justice.
Justin Adams & Juldeh Camara (UK/Gambia) The deepest trance-blues this side of Timbuktu.
Matt Anderson (NB) Sprawling blues and a honey-tinged voice – a raw, rare and real rising talent.
Darol Anger, Mike Marshall w/ Väsen (US/Sweden) Eclectic new-acoustic folk from two continents – a five member virtuosic symphony.
Arrested Development (US) Grammy -winning alt Hip Hop pioneers mixup positive grooves and a social conscious into a pulsing celebration of life.
Bellowhead (UK) Rollicking, theatrical 11 piece world folk big-band and 3 time winners of BBC Radio's "Best Live Band".
Geoff Berner (BC) Folk, punk and klezmer with witty lyrics delivered with frenetic, contagious energy.
Mark Berube & the Patriotic Few (PQ) Sophisticated folk, savvy writing, stirring vocals and impeccable delivery.
The Blue VooDoo (BC) Intriguing blues with rootsy twists and turns delivered with soul, heart and a hint of magic.
Bop Ensemble (AB/BC) Folk maestros Bill Bourne and Wyckham Porteous link forces with up-and-coming singer-bassist 'Jas' Ohlhauser.
The Breakmen (BC) A potent blend of bluegrass, old-timey folk and vintage country.
Basia Bulat (ON) Melodic and poetic folk/pop – timeless, yet surprising and utterly original.
Canefire (ON) Afro-Caribbean traditions meet Trinidadian carnival and jazz on steel pan, piano, horns, bass and percussion.
Eliana Cuevas (ON) This Venezuelan-born vocalist and songwriter creates original world jazz, supported by a stellar band.
The Ebony Hillbillies (US) With banjos, fiddles and washboard, this quartet keeps the rich African-American string band tradition alive.
Jonathan Edwards (US) Since his 70's hit "Sunshine", Jonathan's ear for a good story, strong melody and beautifully crafted song thrives on.
Joel Fafard (BC) This gifted slide fingerstyle guitar player writes stirring, melodic compositions painting vivid pictures.
Roy Forbes (BC) One of Canada's national treasures, singer/songwriter/guitarist, Roy Forbes is blessed with a unique voice, part Hank, part Billie Holiday, part Robert Plant and startlingly soulful.
Fito Garcia (BC) Afro-Cuban beats performed live by four bass players, two percussionists and three vocalists.
Amos Garrett Acoustic Trio w/ Doug Cox (AB/BC) Among the planet's finest guitarists, Garrett (and Co.) hook up with a dobro maestro.
Liza Garza (US) A poet/vocalist and activist whose words simultaneously whisper power and strength; peace and grace.
Dick Gaughan (UK) For over three decades, one of Scottish music's best-loved performers, guitarists and raconteurs.
Great Lake Swimmers (ON) Haunting and heartfelt folk-pop featuring great instrumentals and Tony Dekker's captivating voice.
HAPA (US) Song, chant, the sacred hula and inspired slack key guitar, Maui's HAPA creates pan-Polynesian music for the 21st century.
Corey Harris (US) A globetrotting reggae/blues/roots alchemist who carries the African-influenced blues tradition forward.
Veda Hille (BC) Fierce, independent, an original – Veda writes and sings what amazes her, always amazing us in the process.
Iron and Wine (US) Sam Beam is a classic, lyrically-evocative American tunesmith for a whole new generation of folk music fans.
James Keelaghan (MB) This celebrated songwriter's rich voice illuminates folk's keystones of humour, lore, document and adventure.
Labess (PQ) Rich, festive melodies: Spanish flamenco and Cuban guaracha to the music of the Arabic/Berber world.
Patty Larkin (US) A constantly evolving yet fully-realized singer/songwriter at the height of her prodigious vocal, lyrical and instrumental powers.
Anne Loree (AB) Brave, insightful ballads and rockin' politically-edged commentaries from the writer of Jann Arden's hit "Insensitive".
Dan Mangan (BC) With a uniquely rich voice and well composed melodies, his folkie template approaches alt-Canadiana.
Jorge Miguel Flamenco (ON) Full contact, glorious flamenco music, dance and song with original compositions true to Andalucian tradition.
Los Misioneros del Norte (Mexico) From accordion-driven Norteño dance music to storytelling "corridos" – viva la musica!
Tony McManus (Scotland/ON) "The world's best Celtic guitarist" plucks new life from an ancient tradition.
Mr. Something Something (ON) Mashing-up compelling Afrobeat grooves, syncopated melodies and layered vocals with politically aware lyrics.
Mutabaruka (Jamaica) Acclaimed reggae dub resistance rebel and outspoken people's poet whose righteous convictions have not mellowed with the years.
Idy Oulo (Cameroon/France) Performing on a garaya, a papaya with two strings, and electric guitar, Oulo's music combines African, world music and reggae.
Pacifika (BC) Global pop, jazz-infused and Latin-tinged, that nods to diverse influences while forging a fresh new groove.
Steven Page (ON) Barenaked no more, Page goes solo with a mix of familiar BNL tunes and road-tests of new material.
The Paperboys (BC) No-holds-barred Celtic-laced global music served up with brilliant musicianship and passion.
The Proclaimers (Scotland) No havering – over 20 years on, the Reid twins deliver great folk/pop tunes, from love songs to outspoken political commentary.
Joe Pug (US) This talented folk troubadour carries on a venerable tradition with heartfelt ballads and new songs that matter.
Lester Quitzau (BC) From gutbucket blues to ballads to free improvisation – a mster guitarist, singer & songwriter.
Kate Reid (BC) A whip-smart wordsmith with a knack for candid songwriting charged with humour and social-political observation.
Sara Rénélik (PQ) This singer/dancer blends her Haitian roots with Afro & Franco-Caribbean worldbeat and forays into pop, folk-rock and soul.
Reverend Peyton's Big Damn Band (US) Rural Indiana-based three-piece band delivers an energized sound steeped in classic blues tradition.
Rock Plaza Central (ON) Troubadour-pop, neo-chamber folk-rock relaxed in its own creative realm of humble origins and unbridled imagination.
Zal Idrissa Sissokho & Buntalo (PQ): A descendant of a Senegalese griot family, Zal energizes centuries-old Mandingo music traditions.
Mavis Staples (US) Legendary gospel, R&B and pop singer who infuses each song with a soul-quaking depth fired with dignity and faith.
Tarhana (Netherlands/Turkey) A tribe of Amsterdam music nomads blend Sufi sounds, Gypsy melodies and Afro-Anatolian grooves.
Shari Ulrich (BC) This singer/songsmith's ever-vital music has touched countless hearts for three decades. Now there's a new generation of fans in the wings.
Umalali (Belize) Women's voices and potent rhythms – the stories, struggles and spirit of the Garifuna people of Central America.
Suzie Vinnick & Rick Fines (ON) Carving a new niche in the Canadian blues canon with great songs and a down-home style.
Vishtèn (PEI/PQ) New-Acadian traditional music powered by fiery fiddling, spicy step-dancing and sweet vocals.
VOC Soul Gospel Choir (BC) Mixing eclectic sounds into a positive and spirited world music chorus.
The Weakerthans (ON) Punk-inflected folk rock with literate, witty lyrics have rocketed them to the top of Canada's music scene.
Cheryl Wheeler (US) A gifted songwriter with a gorgeous voice, and a fantastic storyteller with a razor-sharp wit.
Women in Docs (Australia) This duo's down-to-earth humor, soaring harmonies and catchy tunes are bright as a midday Queensland sky.
Jamyang Yeshi (BC) Want Tibet? A talented artist from a nomadic family in Tibet's Amdo region sings the songs of his people.
d'bi .young (ON) A celebrated young poet/artist and a passionate word-warrior whose originality and ingenuity matches her creative courage.
Dates: July 17, 18 & 19 2009
Location: Jericho Beach Park, Vancouver B.C. Canada
Tickets & Info: www.thefestival.bc.ca 604-602-9798
Festival Box Office: Street level – 415 Dunsmuir Street, Vancouver (Mon.-Sat.: 9am-5pm)
Outlets: Banyan Book & Sound, Highlife Records, Little Sister's Bookstore, Neptoon Records & Zulu Records
Ticket prices for Advance weekend passes: $140.00 Adults; $85 Students; $63 Youth 13-18; $65 Elders 65+
Friday night, Saturday & Sunday tickets also available at all levels. Little Folks 12 & under Free.
See the website for full details. Ticket prices are higher at the gate.
Author:
World Music Central News Department
World music news from the editors at World Music Central