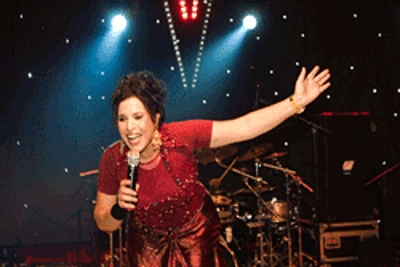 Two extraordinary world music artists from North-Africa (the Maghreb), Algerian-born Idir and Morocco's Najat Aatabou, will share a bill in "A Night in the Maghreb," a concert on July 18 at Avery Fisher Hall that will introduce the world-renowned pop performers to an American audience for the first time. Both artists have Imazighen (Berber) roots which have influenced their musical style and expression. Paris-based Idir-born in the Kabylia region of Algeria-has been at the forefront of socially and politically relevant French-Algerian music since the 1970s. Najat Aatabou is a powerful vocal artist, one of the few, female Chaabi singers performing today, whose music merges Imazighen and Arab influences, and carries a strong feminist message that draws wide audiences at home and abroad.
The non-Arab Imazighen, whose language is Tamzight, are the oldest-known inhabitants of North Africa, going back at least 3,000 years. Readily adopting Islam from the Arabs who swept through their region in the 7th century, they resisted political domination for the next 200 years, but were eventually defeated and over the centuries were, with a few important exceptions, marginalized under successive Greek, Roman, Arab, Turkish and French rule. Under colonial rule, they and the Arab populations of their respective countries were pitted against each other as a political and social tool of the French. Between the two world wars, steady numbers of Imazighen from [wiki:Algeria], emigrated to [wiki:France]. Imazighen played a pivotal role in the fight for Algerian independence, but following independence, and to the present day, continue a struggle against inequality in the political process.
Born Hamid Cheriet in 1949 in a mountain village in the Kabylia region of Algeria, Idir's career was launched in 1973 when he went on a radio show replacing a well-known singer, to perform the song he had written for her, "A vava inouva ("My Little Father"). Inspired by Kabylian folk music, the song was a huge hit across the Maghreb and with Algerians in France and is still one of the most-recognized tunes in those places today. It has been translated in seven languages. Idir, who emigrated to France in 1975 writes, and sings, mainly in Tamzight (sometimes French) and his signature sound is the Kabylian flute and darbuka.
Though his output has been modest (with a ten-year period away from songwriting/singing), his influence has been wide-spread among contemporary pop, rock, world/fusion musicians in the Maghreb, the Middle-East and France. The influence has been both musical-a pure vocal style, distinctive interpretations of traditional Imazighen melodies and original material-and extra-musical-outspoken championing of the rights of his people in the context of a call for human rights. He is regarded as one of the founding fathers of world music and one of the artists who helped bring urban rai-which evolved from Arab Bedouin folk music-to prominence as a "world" sound. In recent years, he has toured frequently in Europe and the Middle East, often playing concerts in support of humanitarian causes. In his latest, hugely-successful recording, La France des Coleurs, (2007) Idir performs duets with well-known young urban rap and R&B artists from France and popular artists from North Africa.
Najat Aatabou was born in the Atlas Mountain village of Khmisset in [wiki:Morocco] in 1960 and lives in Casablanca. She is one of the few female Chaabi singers performing today, with a huge following among the world-wide North-African diaspora, for whom she is the "Queen of Chaabi." A powerful vocal stylist she is also noted for her singular onstage moves based on jedba, a ritual trance state. Najat, who grew up listening to raï, draws on both Arab and Imazighen musical styles, with subjects ranging from love and adultery, to songs with pointed political and feminist messages.
While studying law at university she sang for small, mostly private gatherings. At one of these, someone secretly recorded her and the song was an instant hit on the radio. Although it caused an estrangement from her family, she decided to pursue a musical career. Her first international hit was "J'en ai marre" ("I've had enough") expressing frustration at the limitations and restrictions placed on women in her culture. Najat composes in her native language, a dialect of Tamzight, but translates her songs, and sings them, in Arabic and French.
To date, she has released more than 25 albums, both with modern orchestral backing, and with spare accompaniment from the bendir (frame drum) and lotar (a traditional, plucked string instrument). A recording is scheduled for European release in 2009. A sample of one of her most popular songs, "Just Tell Me the Truth," was used by The Chemical Brothers in 2005 in their million-plus copy hit single, "Calvanize."
Idir (U.S. Debut)
Najat Aatabou (U.S. Debut)
2 hours and 10 minutes, one intermission
July 18 at 8:00
Avery Fisher Hall, Broadway and 64th Street
Tickets: $30, 40, 50
Author:
World Music Central News Department
World music news from the editors at World Music Central