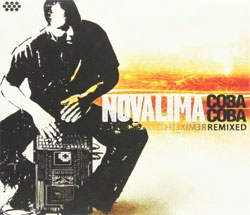 Novalima with Various Artists
Coba Coba Remixed (Cumbancha, 2009)
For those music junkies out there looking to kick up their summer sounds with some explosive party dance music look no further than Cumbancha's Novalima Coba Coba Remixed. In anticipation of Afro-Peruvian Novalima's North American and European tours this summer, Cumbancha turned to some of the hottest international DJs to ratchet up the already dishy tracks on Coba Coba to create some spectacular party music. This high-octane collection of remixes is meaty with dance and house party rhythms that will transform any ho-hum gathering into a hip-shaking, sweat-slicked, incendiary extravaganza.
Turning up the heat, Coba Coba Remixed features such DJ artist remixes as Oreja Remix's version of "Tumbala," as well as DJ Spam's "Ruperta," Daniel Haaksman's "Yo Voy," Coba Soundsystems's "Bomba" and Toni's Dub's version of "Camote." Embellished remixes like Da Latta Remix's "Tumbala," Toni Economides Remix's "Coba Guarango" and Zeb Remix's "Ruperta" blast the listener with enough sizzling rhythmic flash and electrified grooves as to cause spontaneous fanny shaking and shimmying.
Waves of trippy electronica threaded into the driving rhythms of Faze Action Remix's "Yo Voy" turn the original into an ear-popping stunner. Boozoo Bajou Remix took the already great "Africa Landú" and put a feel-good summer shine on it that is hard to resist. My personal favorite has to be the EarthRise "Bedouin Breakdown" Remix of the track "Se Me Van." It's as if EarthRise took Novalima on a ride across the desert sands.
Coba Coba Remixed is downright addictive Latin dance music. Ripe with driving beats and gritty grooves, this CD begs for some elbow room on the dance floor.
Buy the CD or MP3 download:
Author:
TJ Nelson
TJ Nelson is a regular CD reviewer and editor at World Music Central. She is also a fiction writer. Check out her latest book, Chasing Athena's Shadow.
Set in Pineboro, North Carolina, Chasing Athena's Shadow follows the adventures of Grace, an adult literacy teacher, as she seeks to solve a long forgotten family mystery. Her charmingly dysfunctional family is of little help in her quest. Along with her best friends, an attractive Mexican teacher and an amiable gay chef, Grace must find the one fading memory that holds the key to why Grace's great-grandmother, Athena, shot her husband on the courthouse steps in 1931.
Traversing the line between the Old South and New South, Grace will have to dig into the past to uncover Athena's true crime.