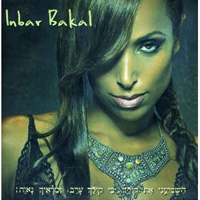 Inbar Bakal
Song of Songs (Electrophone Records, 2009)
At only six songs and 26 minutes in length, this is a sampler and not an album. Still, it's noteworthy in spite of its brevity. Inbar Bakal is an Israeli-born Yemenite Jew who presently resides in Los Angeles, where she went to pursue a musical career after mandatory service in the Israeli military. Smart move.
With producer/musician Carmen Rizzo (known for shaping the sound of several mainstream artists as well as such global fusionists as Niyaz) at the controls, Bakal manages to update ancient Yemenite music via a modern electronica setting that enhances where it could easily have intruded. And it helps the cause that instruments like oud and tabla are as audible or more so than the programmed sounds.
The title track is the centerpiece, giving the familiar Biblical passages of the same name a rendering that's as fine a balance of the divine and the sensual as the source material deserves. Likewise the rest of the tracks, from the atmospheric and slightly foreboding tones of the opening "The Battle of Jerusalem" to "Meditation," a mini-symposium, complete with sampled spoken excerpts, on the potential that lies within the human heart.
Musically, there's Jewish, Arabic, Indian and pan-Mediterranean threads entwined into a mystical whole that Bakal's voice tops with compelling, longing grace. Fans of Azam Ali, Sussan Deyhim and the late Ofra Haza will enjoy this, as will anyone needing confirmation that modern production need not mean that depth and substance will be overlooked. Now how about a full-length disc from this woman?
Buy the Song of Songs or CD MP3 download
Author:
Tom Orr
Tom Orr is a California-based writer whose talent and mental stability are of an equally questionable nature. His hobbies include ignoring trends, striking dramatic poses in front of his ever-tolerant wife and watching helplessly as his kids surpass him in all desirable traits.