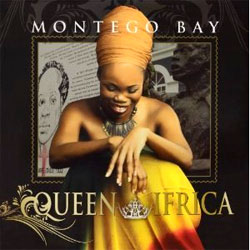 Jamaican singer and songwriter Queen Ifrica unveils her highly anticipated album Montego Bay on June 16, 2009. Her Rastafarian voice on this 13 song selection presents a stirring mix of spiritually empowering anthems, lover's rock tunes and searing social commentaries featured on this dynamic debut for VP Records.
The dancehall styled title track addresses her hometown of Montego Bay's glaring discrepancy between its pristine five star resorts verses the grim realities of a city wracked by poverty, violence and unemployment.
Her first single "Lioness on The Rise" (produced by Donovan Germaine) exudes her courageous and fierce nature at heart, then she displays her romantic side over a mesmeric one-drop beat on the rapturously sung hit "Far Away" (produced by Rickman Warren) and on "In My Dreams" (produced by C. Hurst), where her quixotic husky tone is reminiscent of the iconic song stylist Nina Simone.
She also tells a poignant tale of child molestation on "Daddy" (produced by Kemar McGregor) which has already received worldwide recognition and reached the top of reggae charts, even though certain sectors within Jamaican society attempted to get the song banned because of "Daddy's" subject matter. "I wanted corporate Jamaica to realize that if a society is engulfed by violence we have to look at the homes where these violent tendencies are coming from," remarks Ifrica.
"Montego Bay exposes the many sides on Queen Ifrica. She is traditionally a deejay, so we will highlight her raw fyah burn style on songs "Coconut Shell" and "Yad the East", her heartrending sensational side on tunes like "Daddy" and her strong independence on tracks like "Lioness On Rise", states VP Records A&R Neil Diamond.
Buy the CD:
Author:
World Music Central News Department
World music news from the editors at World Music Central