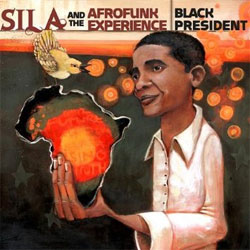 San Francisco-based ensemble Sila & the Afrofunk Experience has released Black President (Visila Records), an album inspired by the historic election of the first African-American U.S. president, whose title track has currently been downloaded more than 10,000 times.
Led by Kenyan native Victor Sila, Sila & the Afrofunk Experience draw inspiration from Nigerian Afrobeat pioneer Fela Kuti while distinguishing themselves by incorporating African genres such as zouk and soukous, as well as the music of Western artists including Sly Stone and Funkadelic. Black President finds the ensemble moving further toward progress and change in both their lives and their music, with blossoming musical chemistry, deep funky Afro-grooves and strong socially-conscious, politically-aware lyrics.
Sila began writing material for Black President prior to the November 2008 election of President Barack Obama. The prospect of the first African-American U.S. president raised hopes not only in America but internationally as well. As Sila explains, "Many Africans believe that Obama is African and he owns his lineage and heritage to Africa. He is a son of Africa; it is in his heart and in the blood of his children. His roots are in Kenya." Obama's historic victory, and the promise that holds for U.S.-African relations, is depicted in the album cover art by painter Jarrod Eastman, which shows a casually dressed and relaxed Obama holding Africa in his hands, the continent illuminated from the inside by the sun.
Barack Obama, James Brown and Fela Kuti offer an iconic trinity of musical, cultural, political and ideological influences on Black President. Like Kuti, Sila connects personal issues with larger social and political ideas, and echoes of classic Afrobeat are evident in the Afrofunk Experience's call-and response choruses, highly syncopated percussion, blazing horns and incessant grooves. Brown's inspiration can be heard in Sila's shrieks and screams as well as the band's punchy horns, chicken-scratch guitar and funky bass lines. In the title track, the band chugs along with a locomotive-like groove while Sila riffs on the imperative for change which swept Obama to victory. Other emotionally-charged songs address the global AIDS epidemic, neo-colonialism and political corruption, tribalism in African society and warmongering among Western nations, and explore influences from kinky reggae to Latin-tinged rhythms to Motown-y pop/soul stylings.
A musical and artistic breakthrough, Black President reflects a deeper realization of the band's ever-evolving identity. To paraphrase Fela's famous credo, Sila & the Afrofunk Experience want to use music as a weapon for peace and cultural education. "My goal on the album was to reach out to the younger generation, who have never heard of Baaba Maal or Youssou N'Dour," Sila explains. "I want to make African music hip to young people."
As a child in Kenya, Victor Sila Mutungi faced incredible adversity. Born in poverty out of wedlock (a cultural taboo), he was abandoned by his parents and raised by his maternal grandmother, a deeply religious woman who ironically provided his first introduction to Western music. She would listen to Christian sermons on Voice of America radio, which were followed by a pop-oriented show that featured artists such as James Brown, Bob Marley, Marvin Gaye and the Jackson Five. Though Sila's grandmother considered this "Devil music," she realized that the music made her grandson happy, and allowed him to listen to the show as long as he also listened to the sermons. This pattern continued in what Sila describes as the "Catholic rock 'n' roll" church in Kenya, where the pastor allowed the young man to play the church piano as long as he attended services.
Sila eventually relocated to the U.S. and moved to San Francisco with the intent of sparking a music career. A sold-out 1996 Baaba Maal show at the Fillmore Auditorium provided a cathartic experience for the aspiring young singer and musician. "Seeing an African artist who embraced his cultural heritage was beautiful," Sila says. "I saw that I didn't have to hide my African-ness."
Sila formed the Afrofunk Experience in San Francisco in 2003, seeking out musicians who could help him create the global fusion sound he imagined in his mind. In 2006 the band released its debut album, The Funkiest Man in Africa, a tribute to Kuti that garnered positive reviews.
Sila & the Afrofunk Experience won "Funk Artist of the Year" at the 2007 Los Angeles Music Awards, and have played such prestigious events as the inaugural Outside Lands Music Festival, Stern Grove Festival, Fillmore Jazz Festival (headliners for five years in a row including at the upcoming 25th Annual festival on July 4 & 5, 2009), and Berkeley Jazz Music Festival. The band's current lineup consists of tenor saxophonist David Boyce (a founder of Afro-futurist jazz ensemble the Broun Fellinis), bassist Wendell Rand, guitarists Ken House and David James, drummer Bennie Murray, trumpeter Mike Pitre, trombonist Andre Webb, and master African percussionists Karamba Kouyate (from Guinea) and Samba Guisse (from Senegal).
In keeping with his mission to combine music with humanitarian efforts, Sila has for the past four years co-produced the Afrofunk Festival, raising musical consciousness among audiences from Seattle to San Diego to raise much-needed funds for education, medical, and health services for East African children orphaned by the AIDS epidemic. Playing benefit shows, Sila explains, is his way "to stay connected to other people, to remember that it's not only about us but community."
Sila & the Afrofunk Experience will celebrate the launch of Black President with CD release shows in Los Angeles, CA (Dakota Lounge: July 11) and New York City (tba). This summer the band will make their debut at the Sierra Nevada World Music Festival (Boonville, CA), and will also perform at select West Coast festivals.
Buy the recording:
In North America: Black President
Author:
World Music Central News Department
World music news from the editors at World Music Central