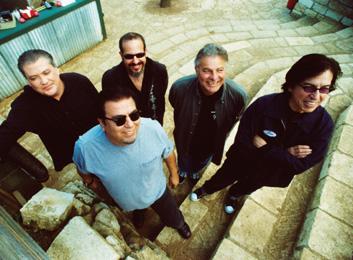 Shout! Factory announced this week that it has signed the legendary Mexican-American five-piece ensemble Los Lobos to a recording contract. "We're honored to work with Los Lobos, a band that we've all been fans of for years, and that has a rich history of unbelievable music. We're thrilled to be releasing their next project," says Garson Foos, President of Shout! Factory.
Celebrating 36 years together, the East Los Angeles vets are marking a new milestone with the commencement work on their 18th record, the highly anticipated debut on Shout! Factory and follow-up to the lauded 2006 release The Town and the City, which drew four-star reviews from Rolling Stone, Mojo, The Independent, and many others. The band notched a number one single with its rendition of "La Bamba," the 1987 Billboard smash that practically turned the group into a household name overnight, has won three Grammys, and has sold countless records.
Not one to repeat the same formula twice, what kind of record Los Lobos will make next is anyone's guess. "We never really plan any album," says Los Lobos' saxophonist, keyboardist, percussionist and producer Steve Berlin. "Like with Kiko and Colossal Head (the quintet's 1992 and 1996 heady opuses that broke artistic ground both times), we just played the songs that showed up, naturally. With each project, we try to make our songwriting an artistic statement, where the stories we're telling and the arrangements we're composing get our point across. But to a certain extent, we make our songs opaque, mysterious. We leave it up to the listener to interpret . . . . That's the highest purpose of artists, we think – not to rob the spirit out of the work."
In the meantime, look for Los Lobos on tour. For a handful of select shows only, these prolific musicians have traded their plugged instruments for their guitarrones, jaranas, and bajo sextos for a stunning set list of acoustic verve.
June 14 Avila Beach Resort Avila Beach CA BROTHERHOOD TOUR Featuring Los Lobos & Los Lonely Boys
June 19 Ann Arbor Summer Festival Ann Arbor MI
June 20 Blues on the Fox Aurora IL
June 25 Thursday at the Square Buffalo NY
June 26 Newport Sunset Music Festival Newport RI
June 27 Lowell Summer Music Series Lowell MA
July 04 Hootenanny Irvine CA
July 05 Marin County Fair San Rafael CA
July 11 Vancouver Island Music Festival Vancouver Island CANADA
July 17 Oregon Zoo Amphitheater Portland OR
July 18 California WorldFest Grass Valley CA
July 19 Woodland Park Zoo Amphitheater Seattle WA
July 22 DuPage County Fair Wheaton IL
July 23 Tanner Park Babylon NY
July 24 Rockin' The River Cruise New York NY
July 25 Pittsburgh Blues Festival Pittsburgh PA
July 26 Long's Park Amphitheater Lancaster PA
July 28 Berns Stockholm SWEDEN
July 29 The Jazz Cafe Camden Town, London UK
July 30 Paradiso Amsterdam HOLLAND
July 31 Southern Fried Festival Perth SCOTLAND
August 01 Cambridge Folk Festival Cambridge ENGLAND
August 03 Lokersee Feesten Festival Lokeren BELGIUM
August 04 Rubigen Bern SWITZERLAND
August 05 Kaufleuten Zurich SWITZERLAND
August 08 Bayfront Blues Festival Duluth MN
BROTHERHOOD TOUR Featuring Los Lobos & Los Lonely Boys dates as follows:
August 12 Mountain Winery Saratoga CA
August 14 Hard Rock Hotel Pool Stage Las Vegas NV
August 15 Concerts in the Park Alpine CA
August 16 Greek Theatre Los Angeles CA
August 19 Red Butte Garden Salt Lake City UT
August 21 Isleta Casino & Resort Albuquerque NM
August 22 Chautauqua Auditorium Boulder CO
August 23 Denver Botanic Gardens Denver CO
Los Lobos dates:
August 28 Atlanta Botanical Garden Atlanta GA
September 16 Paramount Center for the Arts Peekskill NY
September 17 Calvin Theatre Peekskill NY
September 18 Quick Center for the Arts Fairfield CT
September 19 Harvest Jazz & Blues Festival Fredericton, N.B. CANADA
September 20 Town Hall Theatre Woodstock VT
September 26 The Whole Enchilada Fiesta Las Cruces NM
September 27 San Jose Mariachi Festival San Jose CA
October 14 The Big Fresno Fair Fresno CA
October 30 Lied Center Lincoln NE
November 01 Symphony Center Chicago IL
November 06-08 Walt Disney World Resort Orlando FL
November 13 Westhampton Beach Performing Arts Center Westhampton Beach NY
November 14 Harrah's Chester Chester PA
November 15 Birchmere Alexandria VA
November 16-17 Ram's Head Tavern Annapolis MD 2 shows
November 21 Goshen College Music Center Goshen IN
November 28 Cache Creek Casino – Club 88 Brooks CA
November 29 Van Duzer Theater – Humboldt State University Arcata IL
December 05 International Book Fair Guadalajara, Jalisco MEXICO
December 10 Cascade Theatre Redding CA
Los Lobos Are
David Hidalgo: Vocals, Guitar, Accordion, Fiddle, Requinto jarocho
Louie Prez: Vocals, Guitar, Drums, Jarana huasteca
Cesar Rosas: Vocals, Guitar, Bajo Sexto
Conrad Lozano: Vocals, Bass, Guitarron
Steve Berlin: Vocals, Sax, Keyboards, Percussion
Author:
World Music Central News Department
World music news from the editors at World Music Central