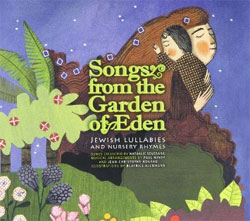 Songs from the Garden of Eden (Jewish Lullabies and Nursery Rhymes) collects 28 Jewish nursery rhymes, lullabies and songs from around the globe including the Ashkenaze, Sephardic, and Yemenite communities. The release captures the traditions and folk music found in homes across the world with performances in Hebrew, Yiddish, Arabic and Ladino (Judeo-Spanish).
Nathalie Soussana collected the 28 songs found on Garden of Eden. The songs performed by both children and adults tell the cycle of life from birth to marriage and the passing of time. Producers Jean-Christophe Hoarau and Paul Mindy have created an album that appeals to children, parents and world music fans alike.
Beatrice Alemegna's beautiful illustrations bring each story to life. Each song's lyrics are provided in the original Hebrew, Judeo-Spanish, Yiddish or Arabic alphabets, as well as the English translation. The music history and cultural context for each song are part of the package notes of this 52-page hardcover Storybook-Music CD and as a PDF in the enhanced CD Digipak package.
Songs from the Garden of Eden (Jewish Lullabies and Nursery Rhymes) was the honored with the prestigious Coup de coeur Charles Cros 2006 in France (originally published by Didier Jeunesse).
The Secret Mountain is dedicated to the creation of children's books, videos and audio recordings of the highest quality. Other titles from The Secret Mountain include My Name Is Chicken Joe recorded with four time Grammy Award nominees Trout Fishing in America, Down at the Sea Hotel, and other titles in their series of lullabies from world: Dream Songs Night Songs: From Belgium to Brazil, Dream Songs Night Songs from Mali to Louisiana, and Dream Songs Night Songs from China to Senegal. All titles are also available as Storybook-Music CD, a CD-Digipak format with a printable PDF file of the illustrated book and on most music download sites.
Buy the digipak:
Author:
World Music Central News Department
World music news from the editors at World Music Central