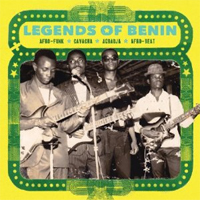 Legends of Benin (Analog Africa) is a collection of extremely rare and highly danceable masterpieces recorded between 1969 and 1981 by four legendary composers from Benin – Gnonnas Pedro et Ses Dadjes, Antoine Dougbé, El Rego et Ses Commandos and Honoré Avolonto – each one of them with their own distinctive sound.
Following on from the compilation African Scream Contest: Raw & Psychedelic Afro Sounds from Benin & Togo 70s and Orchestre Poly-Rythmo de Cotonou's The Vodoun Effect: Funk and Sato from Benin's Obscure Label (Vol.1) this new Analog Africa release continues to unearth incredible Beninese music, once again lovingly compiled by label boss and vinyl collector Samy Ben Redjeb.
The CD comes with a 44-page booklet, full of rare photographs and record covers. Ben Redjeb's very personal liner notes put the music in context as well as detailing his own journey to discover the music. He travelled to Benin to trace and meet the composers (or their family in the case of the late Gnonnas Pedro and Antoine Dougbé) and officially license the tracks.
The liner notes are full of anecdotes and off-the wall information. Honoré Avolonto for instance tells Samy: " I was composing so many tunes that some producers would run out of cash and pay me with goods instead, I remember receiving a torch for a track once which would later become a huge hit." The composers' biographies make exciting reading, too. El Rego, for instance, doesn't only work in music … over the years he has been president of Benin's boxing federation as well as the mayor of Cocotomey – and now runs a brothel in Cotonou.
Also included here is the story of Antoine Dougbé. Son of one of Benin's most powerful Vodoun Priests, Dougbé became adept in Vodoun rituals himself and openly called himself "The Devil's Prime Minister".
Buy the CD:
Author:
World Music Central News Department
World music news from the editors at World Music Central