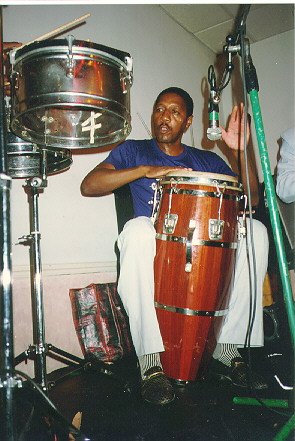 The composer and percussionist Jesús Alfonso Miró, musical director of Los Muñequitos de Matanzas died last June 3 at the age of 60 years in his birth city, where he received the tribute of his people and was buried last week Thursday.
The note of the death made public by the Cuban Music Institute, points out that as a musician from Los Muñequitos, Jesús Alfonso visited almost every continent; he shone on every stage, he never forgot his roots and he lived proud of his rumba heritage, enjoying every corner of his neighbourhood: la Marina.
Since 1967 he was the musical director and quinto of that group, which he loved deeply and to which he dedicated most of his life.
As a composer he was indispensable in the repertoire of Los Muñequitos, and his work was well known all over the world, as the author of Congo Yambumba, La Llave, Chino Guaguao, Lengua de Obbara, Saludo a Nueva York and many others that are already classic pieces from Cuban [wiki:rumba].
Music researcher Caridad Diez, who knows very well the work of that group and who is also very closely related to the award winning album La Rumba soy yo, points out that famous singers such as Eddy Palmieri give faith of the tastiness and popularity of the work of Alfonso Miró by including them in their own albums.
Jesús Alfonso, who was a member of the Matanzas society Efí Irondó Itá Ibekó, and a respectful bearer of the Osha rule, will be remembered by his people and very specially by rumba dancers from all over the world, expressed the specialist.
His name will never be forgotten, said Cary Diez, and she also added that his strong voice indicating the way in which music had to vibrate and the sound of his hands on the leather, will remain in the memory of all those who knew him and recognize him as one of the most important musicians of all times.
Jesús was to rumba as Migueliti Cuní or Félix Chapottín were to son. Jesús gave all of his life to rumba, she said.
His body was placed in the place where he used to rehearse every day with Los Muñequitos de Matanzas, in the street of the same name of the city, number 7906, between Contrera and Milanés, in Matanzas.
The note transmits to the family and to the members of the group the deepest sorry for their loss.
Translation: Karen López (Cubarte)
Source: AIN/Cubarte
Author:
World Music Central News Department
World music news from the editors at World Music Central