Various Artists
The Roots of Bob Dylan (Proper Records, 2009) and The Roots of Led Zeppelin (Proper Records, 2009)
Fans interested in the roots of modern music scene icons Bob Dylan and Led Zeppelin have to look no further than Proper Records box sets The Roots of Bob Dylan and The Roots of Led Zeppelin. With each box set containing three CDs filled with precious, coveted tracks, these two compilations offer a listen to the blues, bluegrass, country, rockabilly and early rock musicians that stand as the very bedrock of modern music.
>
Now throw in a DVD of interviews with music writers and historians and a booklet with a detailed history and fabulous photographs and these box sets are as good as rifling through the desks of Bob Dylan or Robert Plant or sneaking a peak into the closets of Jimmy Page or John Paul Jones. Well, almost.
Without an even a fleeting glimpse of Bob Dylan or the members of Led Zeppelin, these compilations are about the roots of the music – the influences and the ground upon which all musicians walk. Delving into a wealth of recorded tracks, Proper Records, along with compilation guru Russell Beecher and producers White Crow Music, both box sets offer up a stunning look into the musical makings of Bob Dylan and Led Zeppelin.
Casting a wide net, The Roots of Bob Dylan and The Roots of Led Zeppelin have got the goods with everything from Blind Blake's "You Gonna Quit Me Baby" to Elvis Presley's "That's Alright Mama" to Gene Vincent's "Be-Bop-A-Lula" to The Platters's "Smoke Gets in Your Eyes."
The Roots of Bob Dylan shimmers with gems like "Don't Let Your Deal Go Down" by Charlie Poole, "Worried Blues" by Bessie Smith, "Freight Train Blues by Roy Acuff and "Jack O' Diamonds" by Odetta. Utterly priceless tracks like Blind Willie Johnson's "Jesus Make Up My Dying Bed," Bill Monroe's "Blue Moon of Kentucky," Leadbelly's "Black Girl," Gene Vincent's "Baby Blue" and the Stanley Brothers' "Man of Constant Sorrow" do more to explain Bob Dylan than he could probably do himself. And, of course, you couldn't delve into the roots of Bob Dylan without including a little Woody Guthrie, so Proper Records has included Mr. Guthrie's "Ranger's Command' and "Gypsy Davy."
There are more treats by the Carter Family, Blind Lemon Jefferson, Robert Johnson, Hank Williams and Muddy Waters. There's even the Everly Brothers' version of "Lonesome Town," Danny & The Juniors' "Rock 'n' Roll Is Here to Stay" and Johnny Cash's "I Walk the Line."
The DVD of The Roots of Bob Dylan, with interviews with Joe Boyd, Michael Gray, Sid Griffin and Mike Marqusee, offers a glimpse into the cultural and political surroundings when Bob Dylan first stepped onto the Greenwich folk music scene, as well as commentary on background of songs like "The Lonesome Death of Hattie Carroll," "The Times They Are A-Changin'" and "My Back Pages." Fans will get a first hand account when Bob Dylan went electric at the Newport Folk Festival by Joe Boyd and get the background skinny on such recordings as John Wesley Harding and Blood on the Tracks.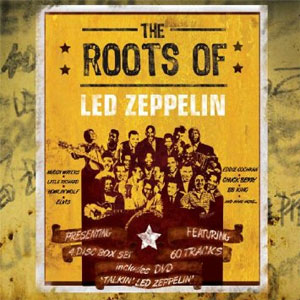 The Roots of Led Zeppelin goes incendiary with tracks like Blind Willie Johnson's "Nobody's Fault But Mine," Robert Johnson's "Sweet Home Chicago" and Muddy Waters' "Long Distance Call." Proper Records has included such sizzling tracks like John Lee Hooker's "Boogie Chillen," Howlin' Wolf's "No Place to Go" and "Smokestack Lightnin.'" Deconstructing the sound of Led Zeppelin, Proper has included Chuck Berry's "Johnny B. Goode" and "Roll Over Beethoven," Elvis Presley's "Lawdy Miss Clawdy" and Jerry Lee Lewis' "Whole Lotta Shakin' Goin' On," as well as tracks by Leadbelly, Bukka White, Blind Boy Fuller, Ray Charles and Eddie Cockran's "Twenty Flight Rock" and "C'Mon Everybody."
The DVD of The Roots of Led Zeppelin is just as compelling with interviews with Charles Shaar Murray, Nigel Williamson, Sid Griffin and blues historians Tony Russell and Robert Birdsong. Fans get a look into how Led Zeppelin formed, as well as the importance of such influences as Robert Johnson, Muddy Waters, Howlin' Wolf, Elvis Presley, Gene Vincent and Eddie Cochran exerted over the band and the British rock scene as a whole.
Whether it is a magical turn of phrase, a well-worn guitar lick or an inexplicable mood that saturates a song, The Roots of Bob Dylan and The Roots of Led Zeppelin go a long way in defining the expressions found in the music of Bob Dylan and Led Zeppelin. While it's unlikely that these box sets will turn you into a mega rock star sensation, but simply walking the same road of these extraordinary musical genealogies is a priceless journey and well worth the sights along these musical soundscapes.
Bob Marley once said, "One good thing about music, when it hits you, you feel no pain." If that's true both The Roots of Bob Dylan and The Roots of Led Zeppelin are a tooth-loosening, star-showering roundhouse slap that's as good as it gets.
Buy the albums or MP3 downloads:
Author:
TJ Nelson
TJ Nelson is a regular CD reviewer and editor at World Music Central. She is also a fiction writer. Check out her latest book, Chasing Athena's Shadow.
Set in Pineboro, North Carolina, Chasing Athena's Shadow follows the adventures of Grace, an adult literacy teacher, as she seeks to solve a long forgotten family mystery. Her charmingly dysfunctional family is of little help in her quest. Along with her best friends, an attractive Mexican teacher and an amiable gay chef, Grace must find the one fading memory that holds the key to why Grace's great-grandmother, Athena, shot her husband on the courthouse steps in 1931.
Traversing the line between the Old South and New South, Grace will have to dig into the past to uncover Athena's true crime.