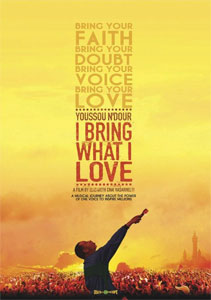 The new film about Senegalese star Youssou N'Dour, 'I Bring What I Love,' opens June 12, 2009 in New York City's Paris Theatre, IFC Center and, BAM Rose Cinemas in Brooklyn; and July 3, 2009 in Los Angeles, and in an additional 25 cities this summer.
;
'Youssou N'dour: I Bring What I Love,' is a music-infused cinematic journey about the power of one man's voice to inspire change. N'Dour is the highest selling African artist of all time and has collaborated with musi­cal superstars like Bono, Neneh Cherry and Peter Gabriel .
At home in Senegal, the Grammy-award winning artist is an inspiration for generations. The film chronicles N'dour, a devout Sufi Muslim, as he releases a deeply personal and religious album called Egypt in the hope of promoting a more tolerant face of Islam. Almost instantly, his fellow Senegalese reject the album, and denounce his actions as blasphemous. Director Chai Vasarhelyi follows N'Dour for over two years – filming in Africa, Europe, and America – to tell the story of how he faces these challenges and eventually wins over audiences both at home and abroad.
'Youssou N'dour: I Bring What I Love,' is the first feature-length documentary film by Chai Vasarhelyi, who also acts as a producer on the film. The film's cinematographers are Nick Doob (From Mao to Mozart; an Academy Award winner for Best Documentary Feature), Jojo Pennebaker (The War Room), six-time Emmy winner Scott Dun­can (Olympic Games, Survivor), and Hugo Berkeley.
The film's original score was composed by Emmy winner Martin Davich (Trinity) and six time Academy Award nominee James Newton Howard (Blood Diamond). The film is executive produced by Edward Tyler Nahem, Jennifer Millstone, Patrick Morris, Jack Turner, Kathryn Tucker, and Miklos C.Vasarhelyi, and co-produced by Sarah Price, Scott Duncan, and Hugo Berkeley. A Groovy Griot Film In Association with 57th & Irving Productions. The film will be distributed by Shadow Distribution.
Official Site: www.ibringwhatilove.com
Author:
World Music Central News Department
World music news from the editors at World Music Central