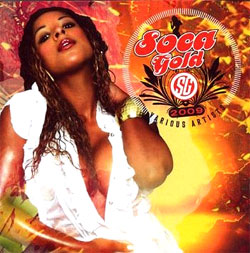 The Soca Gold 2009 (VP Records) compilation, which will be released next week, is jam-packed with enduring classics and massive hits determined by the carnival competitions. Last year's compilation debuted atop the U.S. Billboard Reggae Chart for more than three weeks.
Soca Gold 2009 compilation features summer scorching songs by the 'People's Monarch & Road March King of Barbados' Edwin Yearwood, the 'Road March King' and 'Soca Monarch Queen of St. Vincent' Skinny Fabulous and Zoelah, this year's 'Chutney Soca Monarch King of Trinidad' Kenneth Salick and the all-time 'Raga Soca King of Trinidad' Bunji Garlin with the 'King of the Dancehall' Beenie Man. It also includes bass bumping, party-ready tracks from Patrice Roberts, Roy Cape, Peter Ram and the 'Top Caribbean Female Soca Icon' Destra Garcia.
The bonus DVD in Soca Gold 2009 contains seven companion music videos, a special 'Best of Soca Gold" slide show and exclusive J'Ouvert Morning footage.
Tracklisting for Soca Gold 2009:
"Handle Ya Bizniz" – Edwin Yearwood
"Bacchanal" – Destra Garcia
"Tusty – Roy Cape featuring Blaxx
"Head Bad" – Skinny Fabulous
"Plenty Gal" – Buji Garlin featuring Beenie Man
"Soca Daggering" – Jamesy P
"Tight" – Peter Ram
"Looking Hott" – Patrice Roberts
"Wine Up On Me" – Zoelah
"Jepp Sting Mania" – Kes, Ravi B & Hunter
"Yest" – KMC
"She Sexy Now" – Sean Caruth featuring Jamesy P
"Put Some Wine On Me" – Rita Jones
"Sexy Boo" – Trini Jacob
"Wrong Gal" – Red Plastic Bag
"Bashment Winners" – Lil Rick
"Radica" – Kenneth Salick
"Carnival Again" – Biggie Irie
Buy the album:
Author:
World Music Central News Department
World music news from the editors at World Music Central