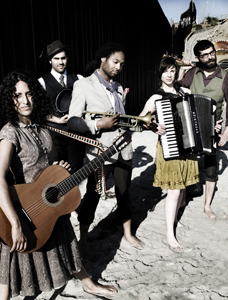 June's I Like My Bike Night in Berkeley (California) features local sensations Rupa & the April Fishes and bicycle touring band the Ginger Ninjas at Ashkenaz Music & Dance Community Center on June 5. The festivities kick off at 7:30 p.m. at UC Berkeley's Sproul Plaza (Bancroft Way at Telegraph Avenue), where a Sunset Bike Cruise will gather. The cruise departs at 8 p.m., riding via Downtown Berkeley and North Berkeley BART stations to the Ashkenaz music club. Performing en route is San Francisco-based Fossil Fool the Bike Rapper, who will lead the ride and provide the soundtrack for the Sunset Cruise from his "Soul Cycle."
This is the Ashkenaz debut for Rupa & the April Fishes. Since the band's first CD, "Extraordinary Rendition," was issued last year, Rupa & the April Fishes have quickly garnered critical and popular acclaim and have gone from local favorites to international touring. They visit Ashkenaz just after playing the Joshua Tree Music Festival, and just before a cross-country summer tour that leads to festivals through Europe and on to Reunion Island (on the African side of the Indian Ocean).
Rupa & the April Fishes is the brainchild of singer-guitarist Rupa Marya, a young woman of Indian heritage whose nomadic upbringing and dual life as a musician and doctor has led her to explore issues of identity, borders, and the vagaries of life, love, and death. The band's music echoes with influences of French chanson, Argentinean tango, Gypsy swing, American folk, Latin cumbias, and even Indian ragas. The April Fishes are accordionist-singer Isabel Douglass, bassist Safa Shokrai, trumpeters Ara Anderson and Marcus Cohen, and Aaron Kierbel on percussion, contraptions, and fish.
Buy Rupa & the April Fishes' recording: in North America: Extraordinary Rendition and in Europe: Extraordinary Rendition.
The Ginger Ninjas, who recently returned from their second bicycle tour to Mexico, will get the dance floor moving with their bicycle-inspired blend of folk, funk, reggae, and Latin music, which they deliver through a pedal-powered sound system. The band will also present a slideshow of their bicycle tour adventures and raffle off an XtraCycle to help fund the next leg of their world bicycle tour.
Doors at 8:30 p.m.; show at 9:00 p.m.
Sunset Bike Cruise with Fossil Fool performance from UCB Sproul Plaza at 8:00 p.m.: www.postpeakoilrock.com/events.html
$8 with bike / $13 without
1317 San Pablo Ave. at Gilman Berkeley, CA 94702
Website: http://www.ashkenaz.com
Author:
World Music Central News Department
World music news from the editors at World Music Central