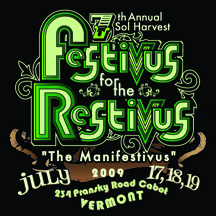 The Sol Harvest Festivus for the Restivus world music festival will celebrate its seventh year July 17th, 18th and 19th as Northeastern Vermont's "party of the summer." For the first time, the groove-filled roots and world music festival will run for two nights and two days and will feature the danceable, joyful sounds of world touring acts Toubab Krewe, Oumou Sangare, Barrington Levy, Midnite, Black Sheep and Earle "Chinna" Smith, as well as many of Vermont's most enjoyable local talents.
The Festivus, dubbed "The Manifestivus" this year to honor its larger scale, is held on 93 acres of breathtaking land in Cabot, six hours north of New York City and three hours from Boston or Montreal. Set on a gently rolling hillside meadow surrounded by forest, the timber stage creates an unforgettable vibe which last year hosted 1500 dancing, smiling, loving faces under a moonlit sky. The Festivus is founded by Toubab Krewe bassist David Pransky, and takes place on his family's longtime farm.
The "forward thinking, groove-heavy" (Jambase) Toubab Krewe of Asheville, North Carolina headline both nights. Friday night will also include a rare U.S. performance by Oumou Sangare , "the songbird of Mali," with Virgin Islands roots masters Midnite opening the gathering. Jamaican reggae legends Barrington Levy and Earl "Chinna" Smith and New York City's old-school hip-hop duo Black Sheep will also move the crowds Saturday. Other performers include Lamine Soumano, Strength In Numbers, Movement of the People: Fela Kuti Tribute Ensemble, Boubakar Diabaté, Sara Grace & The Suits and Jeh Kulu. Yoga In The Woods and African drum and dance workshops will also be available.
The family-friendly event offers on-site camping, medical facilities and security, a VIP lounge, and vendors of authentic African and Ital food and local arts and crafts. Hiking trails wind through beaver ponds, marsh and woodland forest, and a large swimming pond. The 200 children attending in 2008 had their own safe play area with body paint and a bouncy house. This year they'll also have a puppet theater and a little people's water slide. An energy-saving sound system and LED lights use only a fraction of the power used at most festivals.
Pre-sale weekend tickets are available now for just $65 for a limited time, as are VIP packages and single-night tickets, via the Festivus MySpace page at http://www.myspace.com/thefestivusfortherestivus
A portion of the proceeds will be donated to The Sabu School in Conakry, [wiki:Guinea], a children's school for Sierra Leone refugees, and will also go to supporting Toubab Krewe's teachers, their families, and the musical traditions of West Africa and beyond.
"The Manifestivus" Lineup
Fri. July 17, 2009
Toubab Krewe
Oumou Sangare
Midnite
Sat. July 18, 2009
Toubab Krewe
Barrington Levy
Black Sheep
Special guest Earl "Chinna" Smith
Featuring
Lamine Soumano
Strength In Numbers
Movement of the People:
Fela Kuti Tribute Ensemble
Boubakar Diabaté
Sara Grace & The Suits
Jeh Kulu
Puppet Theater
Yoga In The Woods
African Drum &
Dance Workshop
Sun. July 19, 2009
Jazz Criminals
More about Festivus: http://www.myspace.com/thefestivusfortherestivus
Author:
World Music Central News Department
World music news from the editors at World Music Central