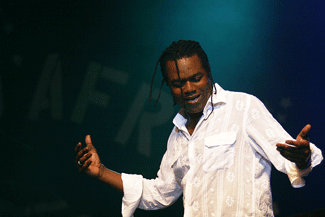 The Lake Tahoe Shakespeare Festival completes its summer score with the premiere of the Urban Village Monday Night Music Series, July 13 through Aug. 17. The diverse line-up of musical performances, found typically in larger metropolitan locations such as New York and Los Angeles, graces the shores of Lake Tahoe with musicians from around the globe bringing their talent to the Sand Harbor stage. The weekly series covers a wide range of styles from Afro-Cuban to Broadway and provides audiences with soul-stirring rhythms and energetic beats complementing the starry, Lake Tahoe skies.
The six-week Urban Village Monday Night Music Series takes place at the Festival's Sand Harbor location with performances by:
July 13 – Reno Philharmonic, Broadway on the Beach with Broadway star Hugh Panero: The Reno Philharmonic takes audiences through the Best of Broadway accompanied by special guest Panero, led by Nevada Opera conductor Michael Borowitz. Recognized for his tremendous vocal talent and charisma, Panero has appeared in numerous Broadway productions including "Phantom of the Opera."
July 20 – Ricardo Lemvo, Afro-Cuban World Music: Congo-born Lemvo blends traditional Afro-Cuban rhythms with pan-African styles resulting in an innovative sound that has been described by the Los Angeles Times as "seamless and infectious."
July 27 – Babbo, Jazz Ensemble: Babbo, a newly formed Los Angeles Jazz ensemble that has worked with John Mayer, Celia Cruz, Keb Mo' and Macy Gray, produces an eclectic mix of rich and vibrant sounds.
Aug. 3 – Sugaray, Blues: Texas-born blues artist Sugaray brings to the stage his wondrously huge voice, charm and character developed as a child singing gospel. A natural storyteller, Sugaray has performed with notable artists such as James Gadson, Joe Luis Walker, Kal David and Slash of "Guns N Roses" fame.
Aug. 10 – Omar Alexander, Latin Funk: Returning artist Alexander first worked with the Lake Tahoe Shakespeare Festival in 2008 composing and performing the original score for the musical CAMBIO. A new generation U.S. Latin music singer, songwriter, composer and musician, Alexander marries smart, alt-Latin sensibility with no-nonsense booty-shaking funk.
Aug. 17 – Karen Briggs, Soulchestra: World-renowned violinist Karen Briggs worked with musician Yanni for 15 years, staring in the 1994 performance "Yanni-Live at the Acropolis." Briggs presents an assortment of musical styles during her 'Soulchestra' performance that blends classical, contemporary, world, soul and R&B sounds.
"We anticipate that the combination of live music set against the magnificent Lake Tahoe backdrop will be a sure crowd-pleaser," Catherine Atack, executive director of the Lake Tahoe Shakespeare Festival, said. "The Urban Village Monday Night Music Series beautifully complements our Shakespeare performances throughout the week and provides another reason for guests to come to our venue…maybe for the first time. The Urban Village series is a continued effort by the Festival to deliver our audiences alternative world-class entertainment options."
Tickets for the Urban Village Monday Night Music Series start at $22 and are available online at www.UrbanVillageMusic.com or by calling 800-74-SHOWS (800-747-4697). All Festival performances begin at 7:30 p.m., with gates open at 5:30 p.m. Special music series ticketing packages are available for all seating levels including the Moonlight Madness package designed for premium and reserved seating tiers and the Sunsets & Starry Night package for lower and upper gallery audiences. Packages provide reduced fees and a free ticket for one of the Shakespeare plays with purchase.
The Lake Tahoe Shakespeare Festival provides audiences a unique combination of a majestic outdoor location along the shore of Lake Tahoe, gourmet food and drink services by Shakespeare's Kitchen and performances seven nights a week. This season, July 11 – Aug. 23, Shakespeare's dramatic comedy, Measure for Measure, a provocative play of political intrigue and moral responsibility with the perennial favorite, alternates with Much Ado About Nothing, the sparkling romantic comedy of wit and banter, fools and tricksters.
Buy recordings by artists featured in the festival:
Author:
World Music Central News Department
World music news from the editors at World Music Central