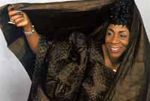 Malian singer Coumba Sidibe died on Saturday, May 9, 2009, at her home in the Bronx, New York. Coumba Sidibe, whose first album was the highest-selling album in Africa for a female vocalist, was known the world over as the multi-titled Queen of Wasulu music.
Coumba's rise to eminence began when she was a leading singer with the group L'Ensemble Instrumentale du Mali and her presence brought Mali's Wasulu tradition of singing to the forefront of the world music scene. Cited by Oumou Sangare and Ramata Diakate as being a primary influence, to say that Coumba Sidibe was a legend does not capture the range and depth of her influence. Her recordings were difficult to find internationally, but some her material appeared in the two Wassoulou Sound compilations released by Stern's Music.
"With her deep, earthy voice, commanding stage presence, profound knowledge of tradition, and composing prowess, Coumba was the real thing," says Banning Eyre of Afropop. "She took what was deepest and strongest in her culture and made it vividly real and relevant to listeners in her modern times. She was a trailblazer for women in West African music and a mother figure for one of Mali's most successful musical genres, Wasulu. To underscore the point, the world's best known Wasulu diva, Oumou Sangare, was once a chorus singer in Coumba's group."
Author:
World Music Central News Department
World music news from the editors at World Music Central