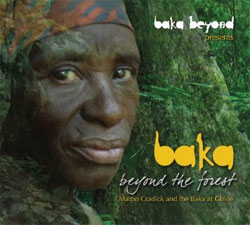 The haunting, mystical vocals on the album Baka Beyond's forthcoming CD, 'Beyond the Forest' (out on 4 May), were recorded on a solar-powered 8-track machine in the middle of the Cameroon rainforest which has been inhabited by the Baka Pygmies, an ethnic group of hunter-gatherers, for thousands of years. At night time the Baka Pygmy women perform powerful ritual singing ("yelli") to ensure a successful hunt.
Back in the UK, Baka Beyond leader Martin Cradick deconstructed the original interwoven vocal lines and replaced some voices with bass and acoustic guitar. The result is a stunningly beautiful, unique, other-worldly album. As well as offering a rare glimpse into an exquisite disappearing musical culture, buying this album also directly supports the Baka who face various problems such as being disenfranchised from the forest. (For people who want to hear the original singing unadorned, a companion album, 'Baka in the Forest,' will be released on 18 May.)
Baka Beyond's UK tour includes a special album launch show taking place at Bush Hall in London on 8 May.
17 April – Assembly Rooms, Glastonbury*, 01458 834677, http://www.assemblyrooms.org.uk
19 April – Gasworks Studio, Bristol (Baka singing workshop with Su Hart) 07939 323585
7 May – The Junction, Cambridge, 01223 511511, http://www.junction.co.uk
8 May – Bush Hall, London (album launch party), 08700 600 100 (ticket web http://www.bushhallmusic.co.uk
9 May – Folk on the Pier, Cromer, Norfolk, 01263 512495, http://www.deckchairproductions.co.uk
15 May – JuJu Club, The Red Room, Sheffield, 0114 275 2027,
16 May – Bongo Club, Edinburgh, 0131 558 7604, http://www.thebongoclub.co.uk
20 May – Thekla, Bristol*, 0117 929 3301, http://www.theklabristol.co.uk
21 May – Mind Body Spirit Festival, London (trio gig 2pm, Baka singing workshop 4-8pm), 020 7371 9191, http://www.mindbodyspirit.co.uk
22 May – Wombwell Festival, Barnsley, 01226 752901,
23 May – Princess Pavillion, Falmouth, 01326 211 222, http://www.carrickleisureservices.org.uk/index.cfm?articleid=15726
24 May – Acoustic Festival of Britain, Catton Hall Park, Derbyshire, 0871 424 4444, http://www.acousticfestival.co.uk
27 May – The Spiegel Tent, Bath Fringe Festival*, 01225 463362, http://www.bathfringe.co.uk
28 May – The Globe, Hay-on-Wye*, 01497 821762, http://www.theglobeathay.co.uk
29 May – Queen's Hall, Narberth*, 01834 861212, http://www.thequeenshall.org.uk
31 May – Sunrise Celebration Festival, South Somerset* 0845 1080259, http:// www.sunrisecelebration.com
Baka Beyond are Martin Cradick (UK) – guitar; Nii Tagoe (Ghana) – balafon, percussion, drums; Kibisingo (Congo) – bass; Su Hart (UK) – vocals; Molara (UK/Nigeria) – vocals; Tim Robinson (UK) – drums; Paddy Le Mercier (France) – violin, whistle, bombarde. Shows marked with an * feature a special 5-piece line-up (Martin, Nii, Kibisingo, Su, Molara), plus projections of the forest.
Buy the CDs:
Author:
World Music Central News Department
World music news from the editors at World Music Central