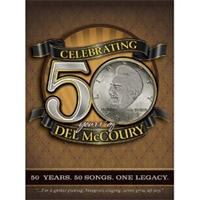 Nashville (Tennessee), USA – A new anthology of Grammy-winning bluegrass star Del McCoury titled Celebrating 50 Years of Del McCoury will be released May 12th on McCoury Music and distributed by Sony/RED.
From the first track on the first disc to the closing chords of the collection's final tune, Celebrating 50 Years of Del McCoury is a journey through time and tradition, as expressed by a true American roots artist whose musical education begins at the side of the Father of Bluegrass Bill Monroe, matures and grows as Del influences the likes of Jerry Garcia and Alison Krauss and then comes full circle on the set's final disc as the master is in turn influenced by his students.
Celebrating 50 Years of Del McCoury is not for the stodgy traditionalist who would have icons like Del enshrined in glass, only to be let out every few years to perform pitch-perfect classics from the late 1950s. No, as befits an artist who, at 70, continues to work and be creative into his eighth decade, the collection respects traditional most by using it as a jumping-off point, rather than an end in itself.
Recorded in a series of marathon sessions, Celebrating 50 Years of Del McCoury features more than 30 new recordings of songs from Del's first 40 years of performing and an additional 18 from the Del McCoury's Band most essential tracks of the past ten years.
Grateful Dead fans will delight in "Rain and Snow," most accurately described as a "cover of a cover" of his own song which preserves a great deal of the fun and affection Jerry and the boys brought to it. Also of note for fans of 60's music is a version of the Lovin' Spoonful's "Nashville Cats," which takes the original's clever wordplay and musicianship to new levels, with extended breaks and a vocal delivery that will have listeners laughing from deep in their gut.
Of course, beyond the obvious tributes to musicians and songs he deeply respects, Celebrating 50 Years of Del McCoury is really about an artist celebrating himself. Traditional bluegrass classics he played decades ago and early originals like "High on a Mountain," "Are You Teasing Me," "Dark Hallow," "Good Man Like Me," Rain Please Go Away" have the snap and the playfulness and the out-of-time freshness that brought chart success to the "O' Brother Where Art Thou?" soundtrack several years ago, and, more recently, the Grammy-winning Best Album, Raising Sand from Alison Krauss and former Led Zeppelin frontman, Robert Plant which Del was invited to sing on as the only guest vocalist.
Celebrating 50 Years of Del McCoury is also filled with many touching and personal moments. Del's renditions of "Dreams," "Let an Old Horse Run," "Loneliness & Desperation," "Undone in Sorrow," and "I've Endured" boast an intensity and a humanity that only an artist who has lived a rich and full life can muster.
If a collection so large and comprehensive can be said to have a center, it's "Never Grow Up Boy" and "Nothin' Special," both from the Grammy-winning The Company We Keep. The former song in particular forms a mission statement and explanation of how Del McCoury continues both longtime fans of bluegrass and newcomers who discovered his work through one of his many disciples, including Dierks Bentley, Vince Gill, Steve Earle and jam band favorites Phish, Leftover Salmon and Younder Mountain String Band, who have all graced the stage with Del.
In addition to a Grammy and 3 dozen IBMA's, Del's most recent achievements include a touring schedule of all the summer's major festival. Del will be performing at Bonnaroo and the Newport Folk Festival, and he just finished up star turns at Merlfest and Jazzfest and, with the likes of Bruce Springsteen and Eddie Vedder, Pete Seeger's 90th birthday bash at Madison Square Garden in New York City.
For those who can't get enough of Del, Celebrating 50 Years of Del McCoury's 12-page full-color booklet full of rare family photos, in addition there is also a companion CD, a 14-track companion CD titled BY REQUEST which consists of, in Del's words "the songs people shout out for us to play night after night."
Buy the CD:
Author:
World Music Central News Department
World music news from the editors at World Music Central