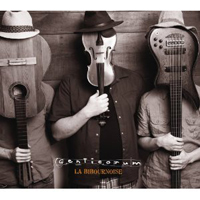 Genticorum
La Bibournoise (Mad River Records, 2009)

Traditional Quebecois music first came to my attention when I saw a Quebecois ensemble perform at the university I was attending. The second time, Quebecois captured my attention was when I watched the Quebecois classic film, "My Uncle Antoine" by Claude Jutra. A scene that took place in the country store, where most of the film's action also took place, the town's people kick up their heels to folksy Quebecois music. This musical tradition revisited me at WOMAD USA in 2001, when the original lineup of Matapat performed and gave a demonstration of the traditional instruments and step dancing that makes up this French-language music.
What's not to love about this lively musical fare that combines humor, pathos, passionate fiddles, lyrical passages and rhythms played out on feet? This is one tradition that shows no signs of dying, unlike many folk traditions around the world. I have already heard numerous recordings by Quebecois luminaries and by newly emerging young groups. I am not sure which group Genticorum currently fits, since this is the first time I have heard of this trio. The musicians perform this traditional music like veterans.
Genticorum's American release, "La Bibournoise" combines storytelling with top-notch fiddle playing, flute guitar, bass, flute and call & response vocals. A jew's harp provides that necessary twang/drone and Pascal Gemme (vocals, fiddle), provides rhythm through his feet. Rounding off the trio are Yann Falquet (guitar, jew's harp and voice) and Alexandre Moulin de Grosbois-Garand (wooden flute, fretless bass, fiddle and voice).
Similar to Matapat and Le Vent du Nord, these musicians are out to have a good time. They perform rollicking jigs and sing songs about a naughty priest, a prison made out of food that would cause a vegan to cringe, and a husband that accidentally wears his wife's lover's pants. (English interpretations of the lyrics are provided). Some of the ballads here such as, "Le Vingt D' Avril" (The 5th of April), "Hommage A Andrè Alain" (a late great fiddler), and "J'y Vas Mon Train" remind me of Scandinavian folk. And the a cappella titular track gets my feet tapping every time.
Genticorum has been collecting praise from top folk and roots publications and the trio has toured in over 15 countries. This foot tapping, high-fiddling trio should not be missed.
Patricia Herlevi hosts the healing music blog, The Whole Music Experience, where she gives Quebecois music a high rating for its ability to lift spirits. She has been contributing to World Music Central since 2003. Check out her article on Quebecois music: Nouveau Musique Québécois : Bone-Tapping Melodies.
Buy the album or MP3 downloads:
Author:
PatriciaHerlevi
Patricia Herlevi is a former music journalist turned music researcher. She is especially interested in raising music consciousness. She is looking for an agent and publisher for her book Whole Music (Soul Food for the Mind Body Spirit). She founded and hosts the blog
The Whole Music Experience and has contributed to World Music Central since 2003.