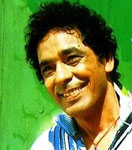 World music festival WOMAD Abu Dhabi attracted 80,000 people, who attended the three-day celebration of world music in Abu Dhabi and Al Ain. This the first WOMAD (World of Music Arts and Dance) festival in the Middle East region and it was brought to Abu Dhabi by ADACH (Abu Dhabi Authority for Culture and Heritage). Ther festival was held last week, April 23-25.
"We couldn't have asked for a more successful event. Every evening exceeded our expectations with cultures and people from around the globe joining together to celebrate world music," said Abdulla Salim Al Amri, Director of Culture and Arts Department, Abu Dhabi.
Following a successful strategic communications campaign the festival welcomed high capacity crowds from across the United Arab Emirates (UAE).
"I heard about WOMAD Abu Dhabi on the radio and then joined the Facebook group to get regular updates. The festival website was great as I got to hear music from the bands before coming down," explained Surej, a student from Sharjah.
Thursday drew a crowd of 22,000 as the Algerian superstar, Khaled dazzled the crowd at the end of the first night on the Corniche. A special one-off show at Al Ain on Friday night attracted 5,000 people with Siyaya from Zimbabwe opening a magical night at Al Jahili Fort. The same evening The Dhol Foundation opened proceedings on the Corniche with a crowd of 26,000. On Saturday, April 25, the final evening of performances opened with a procession by WOMAD Beyond, an educational outreach program which has been visiting schools throughout Abu Dhabi and Al Ain. "The level of interest in participating in the workshops from everyone, old and young alike, both before and during the festival has been inspiring," commented Annie Mentor, WOMAD Beyond Director.
There were many outstanding performances throughout the weekend, probably one of the most magical experiences of the entire festival was Robert Plant singing with the Abu Dhabi skyscrapers lighting the sky behind him. His magnetic presence, movement and voice blended perfectly with Justin and Juldehs' Rock and African sounds" Isadora Papadrakakis, Performing Arts Advisor for ADACH.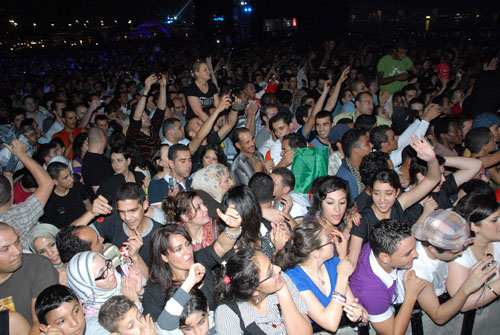 The final evening drew the largest crowd of the weekend with 30,000 people enjoying 'The King' of Egypt, Mohamed Mounir, as he closed the festival to fireworks signaling the end of WOMAD Abu Dhabi for 2009.
"We've never experienced a WOMAD festival like this. There has been a true cross-section of society here during all three evenings. The multicultural aspect of the festival has been quite unique for us. We have been working in partnership with ADACH for 18 months and it has been a fantastic team effort to produce such a successful festival. We are already discussing next year's WOMAD festival with ADACH," said Chris Smith, WOMAD Festival Director.
For more information on WOMAD Abu Dhabi go to www.womadabudhabi.ae.
Author:
World Music Central News Department
World music news from the editors at World Music Central