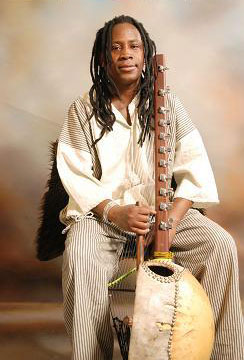 On May 8th, Wom @ TT will present Mosi Conde & Keira Kora Africa, Bullit Williamson, Dj Wala (the don – Limpopo Club), Debbie Outerglobe, Erroll D (Bang Fm 103.6), DJ Carl Omega FM and DJ Landlady inside and on the rise – with a wonderful selection of all styles of African, Reggae and global vibes. The concerts will take place at Inn On The Green, 8pm- late. Cost is £5.00 all night.
Mosi Conde is a young griot from Guinea's (Conakry) leading family. At only 28 he already has 13 years professional touring throughout Africa and Europe to his name and has been playing since the age of 4. His uncle is Sekouba "Diamond Fingers" Diabate from Bembeya Jazz and his family are the backbone and inspiration for many household names like Salif Keita and Moray Kante. A master musician on kora, guitar, bala, bolon and jembes, Mosi is much in demand with London's finest bands (inc Soothsayers, Distant Cousins, Kevin Haynes, Ear Drum …) and has played in his own right at WOMAD and for Nelson Mandela.
Now Mosi Conde launches his own band Keira Kora Africa (Keira = goodness – the best) with kora and amazing percussion and previews his debut album at this event. Master drummers and percussionists join Mosi on traditional Guinean instruments – including krin, dunun (also known as dun dun and doundoun), and jembes,
Bullit Williamson is the drummer of choice for major touring reggae bands and has a melliferous voice. The Hardway are all brilliant musicians in their own right and together creat joyous uplifting conscious reggae. It's rumored that Mosi will join them on kora partway through ….
Inn on the Green has to be West London's most versatile and welcoming venue – with the fine main gig space, the open rise stage, comfy sofas, a fabulous roofed balcony with the most delicious barbecue food and smoking space and the greatest hosts.
Tickets will be on ticket web £5.00 www.ticketweb.co.uk
Runnings:
2pm – 4pm
Jembe Workshop & Dance led by Mosi Conde & Idrissa Camara (from Ballet National de Guinea) in distinctive Guinean Style
8pm the Gig –
Also DJs and Djembes on The Rise outer stage
Workshop = £5.00
Gig = £5.00
Both £8.00
Author:
World Music Central News Department
World music news from the editors at World Music Central