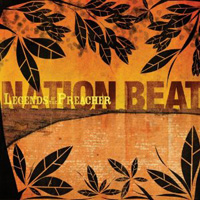 Nation Beat
Legends of the Preacher (Modiba MP 0007, 2008)
Brazilian bluegrass? Country candomble? Okay, I'm either generalizing too much or not specifying enough, but New York-based Nation Beat does mix a massive amount of Brazilian percussion with such instruments as violin, lap steel guitar and banjo, and their songs are equal parts American down-home stomp and Afro-Brazilian groove. A lot of the songs, anyway.
There's also a few that bring the Klezmatics aboard for some even more unexpected fusion that nonetheless jams like it was meant to be. And the band covers the old Hank Williams chestnut "I'm So Lonesome I Could Cry," taking it in directions that rather defy written description. Actually, you could listen to this delightful music and be reminded of anything from forro to zydeco to Celtic reels to a parade of Balkans in Bahia.
And just when you think you've got a handle on it, something unexpected (like a rockish electric guitar riff or the fairly straightforward version of "Blue Eyes Crying In The Rain") is likely to cause you to grin and reconsider. This would all be a pretentious mess in the hands of a group that didn't posses Nation Beat's skill, but thankfully that's not the case. They're exceptional players, they've got an oddly but beautifully compelling lead singer in Liliana Araujo, and this disc of theirs is full of sweet celebratory songs and quirky storytelling. (Yes, the "preacher" of the title figures into a couple of tunes and his tale is not a happy one.)
If you're looking for a disc that will satisfy adventurous world music listeners without putting off purists or just long for music that's got both substance and fun to spare, you're gonna love this.
Buy the CD:
Author:
Tom Orr
Tom Orr is a California-based writer whose talent and mental stability are of an equally questionable nature. His hobbies include ignoring trends, striking dramatic poses in front of his ever-tolerant wife and watching helplessly as his kids surpass him in all desirable traits.