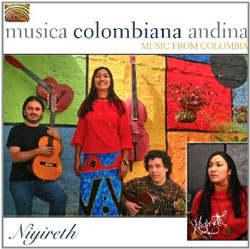 On Musica Colombiana Andina: Music from Colombia, Niyireth paints a picture of life in Colombia's Andean region, from its crop fields and rolling hills to the indigenous people who inhabit the area. The picturesque surroundings of Colombia's Huila department are a source of inspiration for many composers and musicians from the area. This is Niyireth Alarcon particularly evident in songs such as Mi tierra del Huila: "Land of Huila, your women are as beautiful! as the flowers of your fields…".
Love, lost and unrequited, also feature prominently in the lyrics of these songs. Niyireth is a trained mezzosoprano, and has earned many fans in her native Colombia with her clear, emotive voice and impeccable singing technique. She was born in Garzon, department of Huila, in southern Colombia and studied music at the Conservatorio de Neiva, Conservatorio del Tolima and the Conservatorio Nacional y Escuela Superior de Arte of the University INCCA of Colombia. She has won many awards for her music, and has performed at several of Colombia's most prestigious venues.
In over twelve years of continuously working with Colombian music of the Andes, including conscientious musical training and consistent contact with artists, composers and instrumentalists, Niyireth has sought to make her contribution to this musical style by taking its singing to new levels, to bring this genre closer to the Latin American singing movement.
Buy the CD:
Author:
World Music Central News Department
World music news from the editors at World Music Central