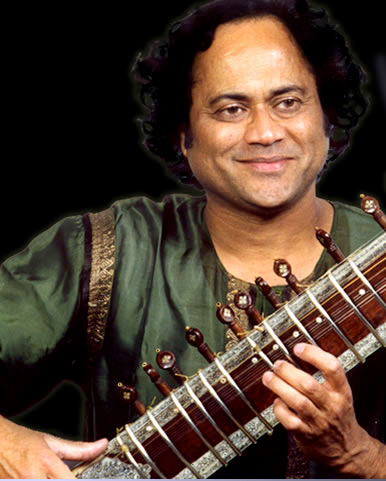 An exciting evening of Classical Hindustani music will take place May 2 in New York with two great masters, Pandit Krishna Bhatt on sitar and Pandit Anindo Chatterjee on tabla. This is a rare opportunity to hear these two highly acclaimed, sensitive artists in such an intimate setting. The Neel Murgai Ensemble, a chamber quartet that features students of these masters, will open the night with their unique blend of Raga, western classical and jazz.
Pandit Krishna Bhatt was born into a family of musicians, poets and Sanskrit scholars who for five generations upheld their tradition in Rajasthan. Krishna was introduced to the musical traditions of Senia school by his father, who was a distinguished sitarist of his time, the late Pt. Shashi Mohan Bhatt. In his teens, Krishna's musical grooming was further enhanced by many years of study under the tutelage of his Guru Pt. Ravi Shankar, and legendary musicians Pt. Nikhil Banerjee and Ustad Ali Akbar Khan, who had a strong impact on Krishna's musical growth. While developing his own individual style, Krishna's music was greatly influenced by twentieth century stalwarts such as the vocalists Amir Khan, Bade Gulam Ali Khan, Abdul Karim Khan, Begum Akhtar, Shobha Gurtu as well as renowned folk singers of Rajasthan. Krishna's repertoire in performance includes a wide variety of rare and old traditional compositions from these masters of music.
He has performed in major festivals on three continents. In India, his concerts include appearances in the prestigious Saptak Music Festival in Ahmedabad, Haridas Sangeet Sammelan in Bombay and the Desert Festival in Jaiselmer. His performances in Europe include concerts in Berlin, London, Paris, Brussels, Luxembourg, and appearances at the Venice Bienale, Lugano Music Festival, Zurich's Reitberg Museum, Guitarra International in Cordoba, Spain and I Suoni Del Tempo in Cesena, Italy. He recently had the honor of being the first Indian musician invited to participate in the avant-garde Music of Extended Duration Festival in Prague Castle in the Czech Republic. In the United States, his performances include concerts at the Herbst Theater and the Great American Music Hall, San Francisco; Carnegie Hall, Symphony Space and the Cathedral of Saint John the Divine in New York.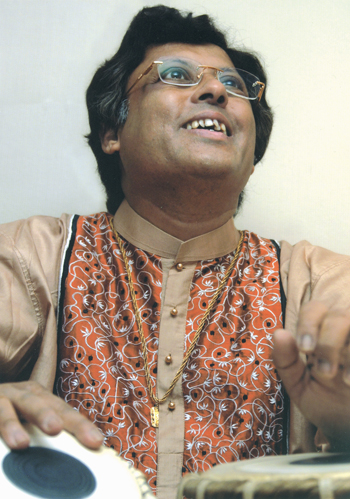 Pandit Anindo Chatterjee is a living legend, and regarded today as one of the most versatile tabla maestros of India. He is not only a leading exponent of the Farukhabad gharana, but has also incorporated tabla repertoire from Lucknow, Delhi, Ajrada, Benaras and Punjab gharanas. His ability to deliver rare and difficult compositions with uncompromised clarity and remarkable speed has placed him as one of the great tabla artists of history.
At the tender age of 5, Pandit Padmabhushan Gyan Prakash Ghosh accepted him as a disciple, and helped shape the young talent into a mature musician of the highest caliber. Anindoji won the All India Radio music competition at the age of seventeen and has also received the Sangeet Natak Academy Award from the President of India. Pandit Anindo Chatterjee has performed the world over, both as a solo artiste and with legendary masters including Pt. Nikhil Banerjee, Pt. Amjad Ali Khan, Pt. Ravi Shankar, Pt. Shiv Kumar Sharma, Late Ustad Alla Rakha and Pt. Hari Prasad Chaurasia.
The Neel Murgai Ensemble features Neel on sitar, voice and frame drums, Sameer Gupta on tabla, Mat Maneri on viola and Greg Heffernan on cello. They perform new music that straddles cultures, continents and eras. Neel has assembled this talented ensemble after years of experimentation with different groups and instrumentations. Best described as Indo-chamber jazz, their sound ranges from an overtone singing, droning minimalism to intricate arrangements of raga based melodies and mathematical rhythmic structures, with healthy doses of improvisation throughout. Neel and Sameer are students of Krishna Ji and Anindo Ji respectively, and are honored by this opportunity to play before them.
Atmanada Yoga Studio, NYC
Saturday May 2, 7:30 PM , $20
324 Lafayette St ,7th Floor
Pt. Krishna Bhatt – sitar
Pt. Anindo Chatterjee – tabla
with the Neel Murgai Ensemble starting the evening