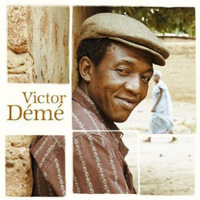 Victor Deme
Victor Deme (Chapa Blues/Makasound, 2008)
Growing up in Burkina Faso, Victor Deme dabbled in his father's tailoring business and more seriously pursued his mother's profession as a singer. He'd been at it for more than two decades, performing in other people's bands and singing covers in clubs, before recording a debut album of his own compositions. Here it is, and it's a dandy.
Deme's got a voice that can soar like Salif Keita or lay back and caress like Henri Dikongue and though he mostly goes the softer route here (with primarily acoustic instrumentation to match), the music has an intensity that befits an artist who's been waiting a long time to make a potent musical statement. Some tracks have a Latin or faintly flamenco feel, whereas many have that West African air combining Manding tradition and loping rhythms that make the music move (and compel the listener to do the same) even on a few songs where the accompaniment is guitar and little else.< The disc unfolds and proceeds in a nice arc that goes from quiet, simply arranged pieces to more danceable fare to a winding down that concludes with a pair of balafon-and-kora-laced purely traditional songs that prove Deme to be a musician who's looking to go his own way while showing he can nail the deepest roots of his sound like nobody's business. It appears to be all for the best that Deme wasn't rushed into making this first go of his own, given how finely crafted are the results. Sure, he probably would have made a darn good tailor, but the path he chose means another great new voice from Africa is here for us all to enjoy. Buy the CD:
Author:
Tom Orr
Tom Orr is a California-based writer whose talent and mental stability are of an equally questionable nature. His hobbies include ignoring trends, striking dramatic poses in front of his ever-tolerant wife and watching helplessly as his kids surpass him in all desirable traits.