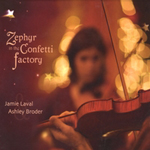 Jamie Laval and Ashley Broder
Zephyr in the Confetti Factory (independent, 2007)
Sparkling with all the bright flash and the dizzying giddiness of a giggle of girls, Zephyr in the Confetti Factory, featuring violinist Jamie Laval and mandolin and 'cello player Ashley Border, reinvents a whole host of songs from the traditions of Scotland, Ireland, Brittany, Galicia and Appalachia. Trapping and bottling a sound that is both crisply traditional and yet vibrantly contemporary, Mr. Laval and Ms. Broder lead the listener on a merry dance that's akin to children chasing lightening bugs on a warm summer evening.
Opening with "Paddy, Jenny and The Boys," a track made out of the trio "Paddy on the Railroad," "Jenny Picking Cockels" and "The Boys of Malin," Laval and Broder inundate the listener in a sparkling sound made out of expert musicianship and sheer joy. Entwining their individual musical voices and improvisations, the pair turn tracks like the slyly sassy "Staircase," the dishy "Jig Jag," a combination of "Tatter Jack Walsh," "King's Favorite," Humours of Donnybroodk and "Irishman's Heart to the Ladies" and delightfully quirky "Levantine's Spinning Barrel" into fluid fun.
The astonishing virtuosity of this duo is apparent from the opening track, but it's tracks like 'cello and violin duet on "Old Man Elizie," with its seductive, backwoods Appalachia sound or the mystery heavy sound on the "The Sorceress," based on a Galician tune by Anton Seoane, that mark Mr. Laval and Ms. Broder as stellar musicians.
Zephyr in the Confetti Factory is a veritable treat. Crafting a crisp, neat sound, Mr. Laval and Ms. Broder dazzle with infectious energy and a sense of playfulness in their compositions. The effect is utterly irresistible and is sure to please Celtic and Bluegrass fans.
Buy the CD:
In North America:

Zephyr in the Confetti Factory.

Author:

TJ Nelson

TJ Nelson is a regular CD reviewer and editor at World Music Central. She is also a fiction writer. Check out her latest book, Chasing Athena's Shadow.

Set in Pineboro, North Carolina, Chasing Athena's Shadow follows the adventures of Grace, an adult literacy teacher, as she seeks to solve a long forgotten family mystery. Her charmingly dysfunctional family is of little help in her quest. Along with her best friends, an attractive Mexican teacher and an amiable gay chef, Grace must find the one fading memory that holds the key to why Grace's great-grandmother, Athena, shot her husband on the courthouse steps in 1931.

Traversing the line between the Old South and New South, Grace will have to dig into the past to uncover Athena's true crime.