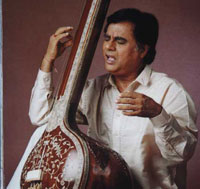 The Seventh Annual South Asian Music Series, presents by Small World Musi, which will burst onto the scene from April 12 to May 30 at some of the finest venues in downtown Toronto. From the ghazals of Jagjit Singh to the Indian water bowls (Jaltarang) of Milind Tulankar; from the global fusion mashup of Delhi 2 Dublin to the South Asian/jazz mélange of Sundar's New Avataar; from tabla powerhouse Anindo Chatterjee to the spiritual songs of Azalea Ray.
Jagjit Singh – The first star of ghazals returns to Toronto
Sunday April 12 @ 7 pm
Roy Thomson Hall, 60 Simcoe St.
Tickets: $102.00 – $37.50 @ RTH Box Office, 416-872-4255 &
www.roythomson.com
Presented by Eglinton Carpet
Jagjit Singh is one of the most famous singers in modern India. In an era where the current generation leans towards rock and hip hop, it is refreshing to see them cherish Jagjit Singh's ghazals as well. After decades in the music business, Jagjit's star continues to rise as the richness of his voice gains maturity and emotional depth. His emotional style and soulful voice have won him fans worldwide. He was largely responsible for popularizing the Ghazal, a form of music previously geared toward the elite.
By singing poetry in Punjabi as well as Urdu, he brought the form to a bigger audience and ensured his status as a beloved Indian cultural icon. His singing in a number of popular Bollywood films and television shows in the 80s and 90s remain popular today. This is the maestro's farewell tour, making his Toronto appearance truly memorable.
Milind Tulankar – Jaltarang: The ancient art of the Indian water bowl
w/ Sunil Avchat – bansuri, Ramdas Palsule – tabla
Sunday April 19 @ 7:30 pm
Medical Sciences Auditorium, 1 Kings College Circle, (U of T)
Tickets: $15 – $28 at 416-281-3725 / www.sulekha.com/Toronto
Website: www.jaltarang.com
Presented by Raag-Mala Society
Jaltarang is an ancient and beautiful musical instrument, rarely heard in contemporary settings. The name literally means "waves in water," as it's the amount of water that determines the tuning of the individual china bowls that make up the jaltarang. Developed along similar lines as the bronze instruments of Indonesian gamelan, these bowls delicately execute raags and
other melodies. Tulankar has earned international recognition for keeping this art form alive. Here he performs with bansuri flute and tabla.
Delhi 2 Dublin – Bhangra, Celtic & Dub – a global fusion experience
w/ special guests Nawtiks
Sunday May 3 @ 9 pm
El Mocambo, 464 Spadina Ave
Tickets: $15 at the door
Website: www.delhi2dublin.com / www.myspace.com/delhi2dublin /
http://www.myspace.com/thenawtiksbegin
Vancouver-based Delhi 2 Dublin is a group of five multi-cultural musicians who mash up electronica and world music, heavy on the bhangra, Celtic and dub flavors. Fusing tabla, fiddle, dhol, Punjabi vocals, and electric sitar with scorching electronic beats, the crew takes listeners on a wild ride through global sounds and danceable rhythms. Recently, they finished putting
together their second album Delhi 2 Dublin Remixed, choosing some of their favorite producers from around the globe to remix their first album with an emphasis on more bass, energy and funk. They have rapidly established themselves as forerunners of a new wave of cross-cultural club music.
Nawtiks are Nik Mutta and Randy Kahlon. Though they've been creating their own hybrid sounds for many years, their popularity has recently skyrocketed through international support from acclaimed DJs, such as the BBC's Bobby Friction. Through live instrumentation, samples and electronics, they take Indian musical elements and mash them up with a variety of contemporary styles and genres. Their "vintage Bollywood meets modern beats" youtube videos are quickly achieving cult-like status with urban hipsters.
Sundar's New Avataar – Raag & taal fused with jazz & electronica
Tuesday May 12 @ 8 pm
Lula Lounge, 1585 Dundas St. W.
Tickets: $15 at the door
Website: www.sundarmusic.com
From time to time there emerges an artist whose musical gifts are unmistakable. Such is the case with internationally renowned multi-instrumentalist, vocalist & composer SUNDAR Viswanathan. Creatively mixing the musical foundations of his birthplace of India with modern jazz, Sundar deftly intermingles each of his vignettes with engaging solos from himself and the topnotch musicians he assembled to perform his work. Sundar'S New Avataar is the latest incarnation of his Avataar Collective project. The new sound features the talents of Giampaolo Scatozza (drums, laptops), David Virelles (keyboards), Rich Brown (bass), Ravi Naimpally (tabla), and Felicity Williams (vocals).
Anindo Chatterjee – One of the world's foremost tabla masters
Saturday May 23 @ 8 pm
Enwave Theatre, 231 Queens Quay W.
Tickets: $30 advance at 416 973-4000 / www.harbourfrontcentre.com Website: www.anindochatterjee.com
Pandit Anindo Chatterjee is a member of an exclusive club, as one of a handful of the world's top tabla players. The power and speed combined with the total clarity of his playing is testament to a lifetime of devotion through years of dedicated practice. The spontaneity and intuitiveness of both his accompaniment and his solo improvisations speak of the depth of his
artistry and often leave his audiences speechless. Over the course of his career he has shared the stage with the late Ustad Vilayat Khan, Pandit Ravi Shankar, Ustad Ali Akbar Khan and many others. From years of dedicated teaching, Anindoji has inspired many outstanding disciples making their way to the stage as stalwarts of the next generation. Among them is his son Anubrata, a featured guest for this concert.
Azalea Ray – Spiritual songs & vocal virtuosity
Saturday May 30 @ 8 pm
Harbourfront Studio Theatre, 235 Queens Quay W.
Tickets: $30 advance at 416 973-4000 / www.harbourfrontcentre.com
A powerful singer with a four-octave range, Azalea Ray has devoted her career to the exploration of spiritual, devotional and sacred music. Ray studied at the University of Toronto, sang at temples, and suffered what she calls "an identity crisis." At 21, in 1993, she went to a concert by Rashid Khan, now one of the most celebrated gurus of Indian classical music, but unknown at the time. She was so moved by his music that she went backstage and said, "Can I come to Calcutta and learn from you?" Ray studied under Khan for a year. Later, in Mumbai, she learned Bollywood-style playback singing, and also became the only student of ghazal maestro Fareeda Khanum. Back in Toronto, she has performed at numerous venues, building a reputation as a powerfully engaging singer. Her ensemble features some of Toronto's finest South Asian players.
Author:
World Music Central News Department
World music news from the editors at World Music Central