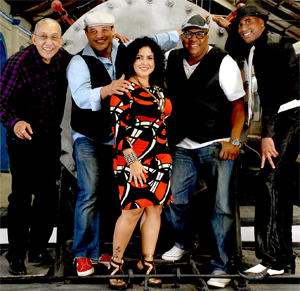 Bern, Switzerland – Van Van, considered a legend in Cuban salsa music, had a presentation at the Volkhaus hall of the industrialized city of Zurich. The over two hours show was conceived on the base of songs of the orchestra that has become classic hits among its followers, as well as a selection of titles of their last record "Arrasando" produced in 2008, among them "Mi songo" and "Un tumba'o pa' los dos". The show was attended by over a thousand people, among them over six hundred Cubans who live in Switzerland and several executives of the Cuban mission in Bern.
The concert gave possibilities to get in touch with a varied repertoire, which, even though it was not the presentation of the latest record of the orchestra, which will be launched in Switzerland in the stages of the city of Zurich during the "Caliente" festival this July, satisfied the expectations of the assisting people.
The Swiss public, loyal follower of the presentations of the Cuban musical groups has abundance all over the country, of Cuban salsa dance schools, as well as varied dance groups that has taken the Cuban Casino Rounds, usually composed by Swiss people and Cuban residents in the Confederation. These Rounds in occasions assume complex choreographies.
Van Van are arriving to Switzerland as every year, preceded by a brilliant trail of hits all over the world, a Grammy award and the unquestionably talent of their musicians, singers and technicians, which has allowed the troop of Juan Formell, to be for over 30 years in the avant-garde of the Cuban music, and will still be there.
Translation: Rodney Lopez (Cubarte)
Source: EmbaCuba Switzerland/Cubarte
Author:
World Music Central News Department
World music news from the editors at World Music Central