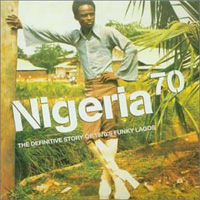 Nigeria 70 – The Definitive Story of 1970s Funky Lagos (Strut Records STRUTO35CD/LP, 2009)
Strut Records is one of those labels that have a knack for tracking down and putting out collections of great music from bygone days. This one- originally appearing in 2001 and now returning in re-mastered form -was a good example, setting the bar high for many similar compilations that followed. And no wonder.
The lineup on these two discs (which despite some sonic housecleaning still have the raw power of their era) includes such greats as Fela Kuti (as leader of both his early band Koola Lobitos and Africa 70), Sunny Ade, Orlando Julius, Tony Allen and Gaspar Lawal, all at a time when they were melding their African foundation with sounds and ideas from the wider world. And brilliant combinations of traditional and far-reaching characterize a good many other artists on this set as well, including the electric piano funk of Monomono Tire, Peter King's jazzy updating of praise to the Yoruba Orisha pantheon, Bongos Ikwue's electrified blues, a sax-laden slow burn courtesy of Afro Cult Foundation and a mover by Shina Williams that's almost like disco but without a trace of tackiness.
The '70s were a time when African musicians were meeting the West halfway and still sounding African, and nowhere was this more apparent than in prosperous and populous Nigeria, where even music geared simply toward having a good time didn't skimp on innovation or substance. So no matter how heavily these tracks take cues from soul, funk, rock, blues, jazz, psychedelia or Latin rhythms, their roots are deeply planted in a Nigeria informed by tribal and linguistic subtleties, regional artistry, Christian and Muslim ideology and an emerging nationalism still not far removed from colonial strictures. But so much for me trying to sound academic as I tell you about this stuff.
All you really need to know is that it's pure dynamite, a mix of primal and sophisticated that makes for some of Nigeria's (and Africa's) most memorable music ever. And for more of the same, seek out Nigeria 70: Lagos Jump – Original Heavyweight Afrobeat, Highlife & Afro Funk, also from Strut.
Buy the CD:
Author:
Tom Orr
Tom Orr is a California-based writer whose talent and mental stability are of an equally questionable nature. His hobbies include ignoring trends, striking dramatic poses in front of his ever-tolerant wife and watching helplessly as his kids surpass him in all desirable traits.