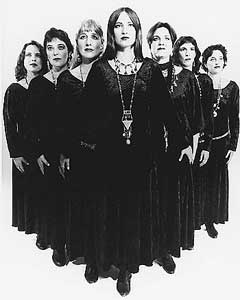 Kitka is about to embark on a three and a half week tour to Poland, Germany and Ukraine to perform its vocal-theater work, The Rusalka Cycle: Songs Between the Worlds, featuring original music by Mariana Sadovska. "We will be performing at the International Giving Voice Festival in Wroclaw, Poland, alongside legendary singers from Armenia, Corsica, Georgia, Guinea, Iran, Italy, Kurdistan, Mongolia, Norway, Palestine, Poland, Serbia, Spain, Ukraine, The UK and The USA. We'll reconnect with some of our favorite muses at this festival including Mariana Sadovska (composer and performance artist from Ukraine), Hasmik Harutyunyan (Armenian folk song master), the Pilpani family (friends from Svaneti, Georgia) and Meredith Monk (from New York)."
After a whirlwind visit to Cologne, Germany, Kitka will perform as part of the Globalize Festival, followed by a broadcast concert for West German National Radio. "We are thrilled to return to Ukraine, where, in 2005, we conducted the research that inspired the creation of The Rusalka Cycle. We are also planning on more expeditions to rural Ukrainian villages with the Ukrainian folklore group Bozhychi at the conclusion of the tour to gather material to inspire its two current projects: Cradlesongs: Lullabies and Songs of Childhood, and Singing Through Darkness: Songs of Wartime."
The Women of Kitka are Caitlin Tabancay Austin, Leslie Bonnett, Briget Boyle, Shira Cion, Catherine Rose Crowther, Juliana Graffagna, Janet Kutulas, and Elizabeth Setzer
Buy The Rusalka Cycle.
Kitka's European Tour Itinerary:
April 10-17
Artist Residency
Grotowski Institute
Brzezinka, Poland
April 19
8:00 PM
Globalize: Cologne 2009
Lutherkirche
Cologne, Germany
April 20
3:00 PM
Radio Concert on WDR
Cologne, Germany
April 22
6:00 PM
Giving Voice Festival
Harmonious Accord: Encounters Through Song
Wroclaw, Poland
April 23-26
Workshops at the Giving Voice Festival
April 27-28
Details TBA
Krakow, Poland
April 29
4:00 & 9:00 PM
Kiev Mohylanka Theatre Academy
Kiev, Ukraine
April 30-MAY 2
Ukrainian Village Expeditions with Ensemble Bozhychi
also
MAY 9
10 AM – Vocal Workshop with Kitka
7:30 PM – Kitka performs Sanctuary: A Cathedral Concert
with Tzvetanka & Ivan Varimezovi and the
Milwaukee Choral Artists
Early Music Now at St. Josephat Basilica
Milwaukee, WI
Author:
World Music Central News Department
World music news from the editors at World Music Central