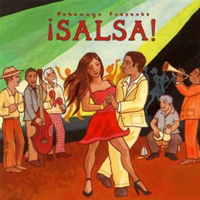 Various Artists
Salsa (Putumayo PUT 289-2, 2009)
Any salsa compilation is likely to cause a few grumbles as to whether its selections truly fit the term. Though this disc's simplistic title does no favors whatsoever, there's music here that will spur the feet of salsa dancers and plenty of sounds that are barely a degree of separation from what's generally accepted as salsa. Because it wouldn't be wise to go around bestowing clunky titles like Salsa Plus Music That Will be Highly Pleasing to Salsa Dancers (and because the debate as to what constitutes salsa has been around since long before I put in my unsolicited two cents worth), I'll just briefly mention the merits of this album strictly as Latin dance music. And there are many.
Unlike Putumayo's earlier Salsa Around the World, the focus on this one is all Western Hemisphere, where African rhythms shook up refined colonial melodies to lay the foundation for salsa and everything resembling it. Colombia's Grupo Gale kicks it off with "Volver Volver," where tres guitar suggests the Cuban son style (which shows up elsewhere as well) before the jolt of salsa piano and percussion signals a shift into high gear.
And the high sticks around as master conguero Poncho Sanchez goes a bit boogaloo on "El Shing-A-Ling," Chico Alvarez and Eddie Palmieri split the difference between Latin jazz and salsa with razor-sharp precision, Orquesta Aragon show their mastery of elegant charanga and Colombia (clearly South America's salsa capital) gets two more strong showings from long timers Fruko y Sus Tesos and newcomer Juanito y la Agresiva, whose "Angoa" ends the set with a nod toward Africa in its lyrics and structure.
Factor in some finer moments by Jose Conde, Son Boricua and reigning salsa fusion king Ricardo Lemvo, and the heat gets even hotter. No matter how you label it- yes, "salsa" is as good a word as any -what we have here is a selection with no bum tracks and spice to spare.
Buy the CD:
Author:
Tom Orr
Tom Orr is a California-based writer whose talent and mental stability are of an equally questionable nature. His hobbies include ignoring trends, striking dramatic poses in front of his ever-tolerant wife and watching helplessly as his kids surpass him in all desirable traits.