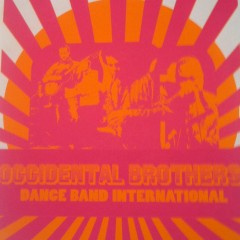 Occidental Brothers Dance Band International
Odo Sanbra (Occidental Brothers, 2008)
The term "short but sweet" seems to have been tailor-made to describe Occidental Brothers Dance Band International's debut CD from a couple of years ago. Only 30 minutes in length, the disc was a gem of classic African styles re-created by a group of American guys based in Chicago and equipped with only guitar, bass, saxophone, congas and small percussion. They're back with a second release and a few changes.
Guitarist and founder Nathaniel Braddock is still at the helm along with alto saxophonist Greg Ward, this time with support from vocalist/trumpeter Kofi Cromwell and drummer/percussionist Asamoah Rambo, a couple of Ghanaians who fill out the sound and bring more of a true African vibe (not that the band was really lacking in that department).
Where the first disc was purely instrumental, Cromwell's vocals here are a strong addition, perfectly suited to the highlife that's one of OBDBI's specialties. Rambo's work on drum set likewise edifies, giving the grooves more muscle to flex and building an expertly tight rhythm section alongside bassist Joshua Ramos and conga player George Lantei Mills.
Rest assured, however, that this aggregation has not lost any of their original charm or chops as they burn through this set of mainly original compositions. Listen to how seamlessly the opening "Nyenko!" jumps into a soukous-style sebene, the palm wine serenity of "Masanga" and "Yaa Amponsah" or the polyrhythmic strut of the title track and "Nedo Ye Fe" ("Her Love is Sweet"), and you'll soon catch on that what you're hearing is genuine African music made in America but not watered down or compromised (even the bus passenger-imitating "raps" on one track ring perfectly true).
The players all get some superb licks in, with the incredible symbiosis that Braddock and Ward demonstrated on the first disc still intact and even more inspired thanks to the added African blood. Buy this CD without delay; it's a perfectly wonderful follow-up to that impressive debut (a good deal longer as well), and no doubt an indication of even more great things to come from these guys.
Buy the CD from www.thrilljockey.com/catalog/?id=100694
Author:
Tom Orr
Tom Orr is a California-based writer whose talent and mental stability are of an equally questionable nature. His hobbies include ignoring trends, striking dramatic poses in front of his ever-tolerant wife and watching helplessly as his kids surpass him in all desirable traits.