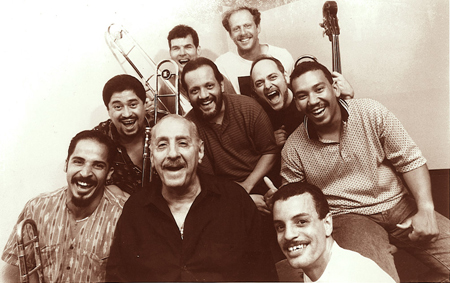 Renowned salsa musician Manny Oquendo died March 25, 2009 at a New York hospital. Oquendo was a veteran of the days when Latin bands crowded into a studio to polish off a recording in an all-night session. "The first recording (singer) Tito Rodriguez did, we took the 7th Avenue train to record for SMC label," Oquendo recalled. "Tito Puente did the arrangements. You recorded on monaural, with just a few mikes. You couldn't stop and overdub. You just played."
Oquendo's musical education consisted of the old-school, "just play" approach, and he was in the right place to learn. He grew up on Kelly Street in the Bronx, New York, not far from the great Cuban tres player, Arsenio Rodriguez. Colin Powell, who'd later become a general, lived on the block too, so did pianist Noro Morales. And a lot of kids who'd later make their names in Latin music, such as Joe Cuba, the Palmieri brothers, Little Ray Romero, grew up playing stickball on Kelly Street.
Oquendo became an expert on Cuban rhythms and began playing bongo and timbales with a succession of New York's top bands , with José Curbelo and Vicentico Valdes before moving into the orchestras of Tito Puente and Tito Rodriguez.
In 1963, he joined La Perfecta, the conjunto organized by pianist Eddie Palmieri. "La Perfecta was struggling at that time, trying to compete with all the other bands at the Palladium," says Oquendo. "I'm talking about big bands with 15 people in them. Eddie's was a small conjunto group. But what made us different was the music and the playing " we were looser, more free."
In 1974, Oquendo and Jerry Gonzalez left La Perfecta to move in their own direction. In the years since, Manny Oquendo and Libre became preservationists of the tipico sound, nurturing some of the most dedicated sidemen in the business.
Author:
World Music Central News Department
World music news from the editors at World Music Central