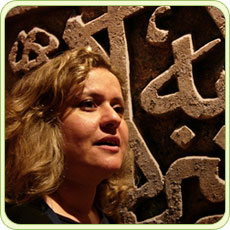 Concert for Gaza in Sheffield City Centre (UK) on March 23rd.
"This is an amazing space isn't it?", said Reem Kelani, as she stood next to the Steinway grand piano surveying the simple splendor of Sheffield's Upper Chapel. Whether it was the setting, the warmth of her Sheffield welcome or something in the water of Dubai, from where Reem had just returned after attending a panel debate on the occasion of the visiting Tate Gallery exhibition of British Orientalist paintings. Whatever the cause, there was definitely something magical about the evening………
Built in 1700, by Timothy Jollie's non conformist congregation, Upper Chapel has a style similar to Wrens', St James' church in Piccadilly. With no altar, the large church organ forms the dominating centrepiece and a backdrop to a tall wooden pulpit whose ascent by the spiral staircase would keep any preacher fit. Once the spiritual home for one sixth of Sheffield's population, who crammed into the wooden pews and the U-shaped gallery above to hear the latest sermon or social discourse belted out from the pulpit's lofty heights.
Tonight with similar anticipation, it was the stage for a concert for Gaza, where the depths and breadths of human emotion would unfold..Our host for the evening was Hilary Nelson, from Sheffield Palestine Solidarity Campaign, who called for a moment's silence, to reflect and think about the people of Gaza. Those who remain, those who were displaced, injured or killed. After which Sheffield's Socialist Choir, with their motto "Sing for a Change" took to the stage and opened the night of music with their version of Michael Heart's Song for Gaza. ( A song that has gone around the world electronically and set to images by a number of You Tubers.)
The choir continued their set with one of their special commissions, this time from Ali Burns, "We Are All Under The Stars" where spoken and sung text work hand in hand. The spoken text came form the Universal Declaration of Human Rights, ironically published by the United Nations in December 1948 and reading like a tick list of violations most notably against Palestinian human rights in the Middle East but also social injustices worldwide.
Focus was beginning to sharpen as to what humanity is becoming…
The Choir were in fine voice moving to a South African song, Senzenina, sung in Xhosa with a soloist whose voice was just mesmerizing, " What have we done? Our crime is being Black " a lament against pass laws of the the apartheid regime. Following on with a reminder of our galleried church setting, "Wicked Men", a song in the West Gallery singing tradition, where choirs critical of powers to be, sung out…. before the tradition was stamped out in the 1850's. Their set finished with a street song, set to the melody of Bye Bye Love, an invitation to boycott Israeli goods, as happened during protests against the apartheid regime in South Africa.
Don't buy dates
Don't buy Jaffa fruit,
Don't buy Israeli wine
there's a boycott going on.
The audience joined in, smiling and with lifted spirits at the "misappropriation" of the Everly Brothers classic. Inspiring the audience five years ago at a similar fund raising event, were Sheffield residents Bill and Alfie Horrocks. Hilary was determined to track them down and invite them to perform tonight. Her homework paid off and Alfie flew in from Latvia, taking a train up to Sheffield to join his father, especially for the concert tonight.
"I don't understand all the politics, all the great forces", said Alfie quietly "but I do understand the idea of singing for change, you guys really touched me". A round of applause from the audience and Alfie launched into a heartfelt rendition of Dylan's, "The Times They Are a Changing" followed by Willie Nelson's "Oxygen".
Still wearing his warm overcoat from the plane journey, Alfie stood saying "It gives me great pleasure to welcome my Dad on stage". As he pulled a piece of white paper from his overcoat pocket he said, "He sent me this two weeks ago, the lyrics to his song, I sung it five years ago and didn't fully get it, now I do".
As the neighboring cathedral bells started to chime, the two unassuming men stood at a microphone each, Alfie with his head bowed modestly, this time singing slightly discordantly but fully complementary to his father's deeper voice. "There used to be an orchard here, till the soldiers built a gun tower." ….the lyrics came to him in rapid flow after reading a Chris McGreal article in the Guardian newspaper reporting the IDF's shooting of a ten year old Palestinian girl in Gaza five years ago.
A stunned audience kept an honorable silence at the end if their performance, only beginning to applaud as they turned to walk back to their seats. "Thank you for singing that", came cries from the pews. Many of the audience were visibly moved. Lachrymosa! It was the story not of a single event but a requiem for the death of humanity.
It was only recently that Baaba Maal talked on the radio about his role as a musician in Senegal alongside griots who have huge importance and recognition in villages as conveyers of the news, popular opinion and social concern through their songs and music. Alfie and Bill, from Dinnington via Latvia, had done just this. A skill, that is often overshadowed by the world of television, internet and radio.
How would Reem follow such emotion, "I feel embarrassed to sing love songs from Egypt", she admitted.
Fortunately, we had a break and Dr Mona El-Farra, from Northern Gaza, was there to make an address before the second half of our musical night commenced, to explain that, "we resist the occupation with singing, we fight against injustice by singing. Now is not the time for me to tell stories, you know them, just one story is enough to show that human rights have been violated". She continued, graciously and emphasized the importance of refusing to be a victim, "its a long term struggle we need all our energy until the nightmare is over".
Dr Mona has family living in exile in Sheffield and said, "I am going home to Gaza with a real message. That Gaza is not a charity case but a case of solidarity, until justice prevails there's truckloads of reaction, what's happening here and I am talking about the Sheffield people is ongoing support". You can read more on her blog ( details below) "From Gaza with Love". Dr Mona concluded as she has started, "We encourage a more positive attitude, to be more joyful, by being joyful we resist".
Fire in Her Soul
Cue Hilary to introduce Reem Kelani as the "The voice, one of the best ambassadors for Palestine. Enjoy her wonderful music and ingenious arrangements".
Accompanied by Bruno Heinen on the grand piano, which initially doubled up as a percussion instrument as he joined in a complex rhythm of hand clapping from Reem who opened with a traditional Palestinian wedding song. "This is a song from pre-1948 and you see there were plenty of Palestinians around, why else would there be so many wedding songs", said Reem even though she was quite out of breath after a wedding celebration turned into a physical workout of voice, hand percussion and foot stomps.
Reem researches her heritage meticulously in order to help preserve the Palestinian traditions and following the Palestinian narrative, she delivered a pre 1948 poem, before launching into one of the most heartfelt and animated renditions of Galilean Lullaby, I had ever witnessed her perform. There was fire in her soul as she sang the song from her maternal homeland of Nazareth. My heart was pumping as she walked up and down the aisles singing the refrain, Hardship Never Lasts.
Spontaneous applause on its conclusion and already a few enthusiasts were out of their seats. Not so the children in the pew behind me who were puzzling over the lack of the usual Britney and Girls Aloud fare, that they have become accustomed to on the television.
Since releasing her debut CD, Sprinting Gazelle in 2006, Reem has been working on new additions to her repertoire that will hopefully come together as a new album. The first of which is inspired by the work of Egyptian composer Sayyid Darwish and a song of addiction, in which the metaphors for the drug and the drug user are intertwined with the loved and the lover.
We move back to Palestine, "I never sing this song the same way twice, anyone in from Turkey?. I thought I might have to add in the Turkish verse. I had the pleasure of working with the clarinetist Selim Sesler in Istanbul, the repertoire is very close to that of Palestine," relayed Reem as she sat down with her shruti box. Alas as a non Arabic speaker I didn't understand the lyrics but it had something to do with a woman talking to Moses, Mary and the prophet Mohammed. "If there isn't what you want, then want what there is", offers Reem in translation.
Joy is in abundance, the audience are in good form too, engaging with Reem all the way from the back of the chapel. We go back to Egypt and a little further south to Nubia, again drawing upon the compositions of Sayyid Darwish who in 1919 wrote the song about enslavement of the Nubians in Egypt ands states that slavery was against humanity and asks how long would the distinction between the haves and the have nots prevail. In "An Ode to the Downtrodden" Reem introduces the Tanbour, purchased from the felafel stall holder in London's Portobello Road. "Don't forget to give me the blues, Bruno", says Reem ever keen to communicate with and encourage her fellow musicians. A celebratory and uplifting number finished in a flurry with Bruno once more returning the grand piano to a big percussion box whilst Reem slapped out a rhythm on the body of the Tanbour…..who needs a cajon ? "Yeah!" cries the audience completely enthralled by this time.
A quick time check "I have so much I want to share", "I felt embarrassed to sing love songs but Mona says we need them too", then she caught everyone by surprise with a jazz number sung in English. I hadn't heard this before. A love song to the divine, to the motherland or your lover. Make your choice. Her voice sounded so different, I don't think I was the only one holding my breath in anticipation of what would come next, waiting until the last note from the piano faded, before applauding.
Another new addition to the repertoire and appropriate for the period of Lent, The Vinegar Cup which, which reminds us that many Palestinians are also Christians. Written by a Muslim and Marxist, Mu'in Bseiso, where else but Palestine remarks Reem who turns to compliment her pianist once more, "Go crazy, we're almost there, all yours Bruno".
Leaving the stage momentarily to sit in the front pew and enjoy Bruno's freestyle playing before joining in with vocals. The pair received a standing ovation. Bruno revealed later, how much he enjoyed the Steinway acknowledging it as, "one of the best pianos I've played".
But there was still a bit more to come, welcoming back on stage the Sheffield Socialist choir Reem announced, "I always like to finish with a song that people sing whilst building houses, passing the bricks and praising God. Construction not destruction. Think of them rebuilding all the houses in Gaza".
For this night only, with the choir providing backing vocals, "Il-Hamdillah", took on a life of its own, intoxicating and trancey as Reem sang over the top in the women's style of Imhaaha, a form of yodeling whilst Bruno offered improvisations from the upper range of the piano's keyboard. Then the farewell, Zourouni, originally a sacred song about visiting the grave for the prophet Mohammed once a year that has subsequently been incorporated into a secular song, simply inviting people to keep in touch.
Another standing ovation as the Choir, Reem, Bruno, Hilary and Mona took bow after bow. What ever the magic was, whether it was the building, the passion of those on stage, the feedback from the audience or indeed the waters of Dubai, it seemed as if, to coin a church organ phrase, that all the stops were pulled out and everyone was singing from their soul at the top of their ability.
Such joy in support of such tragedy, simply amazing.
Buy the Reem Kelani CD:
Author:
Jill Turner
Jill Turner contributes to Songlines Magazine, World Music Central and is on the fRoots critics albums of the year panel. Her radio show GondwanaSound broadcasts on Sheffield Live! 93.2FM to the fourth largest city in the UK and is carried on both Radio Groovalizacion and African Internet Radio.