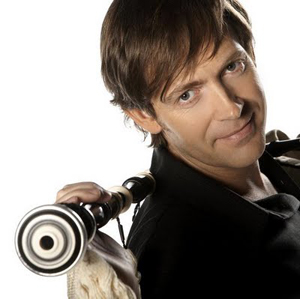 Galicia, Spain first came to my awareness when I read Brazilian author Paulo Coelho's "The Pilgrimage" and then later, the editor of this website sent me two recordings of Galician music. I am astounded by the musical diversity that hails from this region—everything from pop/rock to classical, traditional, folkloric and innovative Latin jazz. "El Camino" is not the only road worth taking in Galicia, the musical highway, which acts as a proverbial silk road bringing in musical styles and genres from near and far then creating a mosaic that is 100 percent Galician.
My original plan was to write an article on Celtic music recordings from the British Isles, Galicia, Brittany and Portugal. Then the CDs from Galicia, along with material from a ministry of arts & culture started arriving at my post office box. I am sure I am not the only musician or music journalist thinking that Galician music is, if not already the next wave of global music to take over community radio airwaves and boosts sales for small world music distributors in North America and Europe, if not beyond.
Bagpipes and frame drums are the first instruments that come to mind when someone brings up Galician music. But the recordings that I am going to review in this article, feature double bass, vibraphone, violin, accordion, saxophone, percussion (both traditional and non-traditional, such as a kit drum), piano, guitar…Various polyrhythms played on bagpipes (gaitas), accordion, guitar and percussion crops up here too. Influences from neighboring Portugal, other regions of Spain (such as flamenco), and other Celtic regions also round out the Galician sound.
But before I get into the actual recordings, let me tell you a little about Galicia. The region is most famous for its Christian pilgrimage, "El Camino" which winds its way from Europe to Santiago de Compostela. This is the road of Saint James, the lesser. But not everyone that travels to Galicia does so for religious reasons. According to material I received in the mail, this region features numerous music festivals which includes jazz, classical, pop, rock, reggae, traditional Celtic, folk, and African-Diaspora. You can choose from any type of music from Mozart to hip-hop, but it is the folk music that most interests me.
Also according to the material sent to me, many Galicians had emigrated to Latin America. And musical influences from Latin America found its way back to the mother country. Some of the bigger name performers from Galicia include piper Carlos Nuñez and rising star Uxía. Other names mentioned in the arts & culture material, include Berroguetto, Mercedes Peòn, Susana Seivane and many others.
When my sister arrived home from "El Camino" the first time, she brought me back a recording, "El Camino" by Real Banda de Gaitas. At the time I had no idea what gaitas were so I placed the CD in my player and turned up the volume not knowing that I would soon be blasted with bagpipes. Not just one bagpipe, but an entire marching band. Since I am not a huge fan of bagpipes, and only as a child felt that green misty-eyed feeling listening to the instrument, I was not too impressed with Galician music at that time. Yet, even though this is a tourist shop recording, it's actually quite lovely in retrospect. After all, the recording was made by a award-winning band.
Recently Galician diva Uxía's World Village release, " Eterno Navegar" came my way. I fell in love with it first listen. This recording brings out another side of Galicia that I had not heard before which combines influences from its Portuguese neighbor (Uxía's vocals even take on a fado singer quality at times), including fado and West African sounds, rhythms, and moods. If there are any bagpipes appearing on this recording, I don't recall hearing any. In fact, I thought Uxía was Portuguese when I first heard her sing and I was reminded of a favorite fadista of mine, Cristina Branco.
I could have started off this article with a quote by Uxía from her album. "Sailing while savoring the waves of the sea that draws closer and mingles currents, counting, singing and adding voices…the salty scents and tastes of Cape Verde and even the solitude of Costa da Morte in Galicia; to travel down the green Miño and the desert on a bright day and at dusk; to play the sweet Galician melodies to the rhythm of African drums distill a unique perfume that merges fado, alalá and morna."
But if I had started off with such a luscious quote, would I need to sit here and try to describe this global musical stew, that is on one hand unique and on the other hand, so familiar to my ears? Uxía has not just opened a door for me, she set loose the flood gates and my appetite for Galician music has just begun.
Of course, one of the problems I have run into is promotional material written in the Galician dialect. Only one of the CDs I recently received comes with a press release written in English. The folk-jazz fusion trio, Nordestinas (pianist Abe Rábade, singers Guadi Galego and Ugia Pedeira) sing about the nearby sea and childhood on the coast of Spain. The women appear to be singing folk melodies over the backdrop of syncopated Latin jazz piano and percussion. The two-part harmonies coupled with Rábade's elegant piano playing that recalls New York City, sounds original, even heartfelt.
World music fans who enjoy women's vocals, especially from Spain and Portugal would find themselves at home with this recording. Since the CDs sent to me were originally released in Spain, I am getting by without English translations. Even so, this music speaks to the heart and soul. And no doubt you radio programmers out there will be adding "Nordestina" to your playlist if you have not done so already. I know I am proud to have this one in my collection. And each time I listen to it, I love the recording even more.
Lizgairo (Rodrigo Romani, Anxo Pintos and Xosé Liz), sounds as if it hails from Basque country. The trio's newest recording, "Diacronías," which has something to do with time (the musicians are holding clocks over their faces on the CD cover), features a beautiful combination of hurdy-gurdy, harp, percussion, violin, acoustic guitar, saxophone, bouzouki, oboe, vocals and other beautiful instruments. Actually, I feel that time stands still when I listen to this recording, especially when listening to the second track, "Alalá de Menduiña" which is followed by a Spanish jig, "Muiñeira do Morrazo".
The musicians provide English translation of the songs, mostly instrumental that appear on the recording. The overall sound is polished folkloric with an urban jazz tinge. One moment the songs exude Celtic qualities, at other times, they sound like Basque folk music as mentioned earlier, and then a jazz element appears out of nowhere. Certainly Lizgairo provides enough innovation and originality here to keep listeners interested. Coupled with a warm crispy sound, I think this is another community-radio, even NPR friendly recording. But I hope I beat the NPR folks in getting the word out on Galician folk music, even if by a mere second.
"Vellas Artes" by the trio Vaamonde, Lamas & Romero can also be called a Celtic folk-jazz fusion recording. Xesùs Vaamonde performs on bagpipes, traditional drum and triangle, while Pedro Lamas handles soprano saxophone duties and Xosé Lois Romero brings in accordion. It seems like a strange combination of instruments and it provides an almost circus-like atmosphere at times. The accordion builds a bridge between the jazzy saxophone and the Celtic bagpipes.
"Foliada de San Pedro de Visma" with its hearty vocals, hoots and rollicking accordion reminds me of Basque traditional music. I imagine this is some type of fiesta song because it has a folk dance feel to it and it could even be some type of drinking song with all of those hoots and hollers. Over all, "Vellas Artes" feels lively and should get anyone listening to it in a festive mood. And a beautiful ballad such as "O splendor" which sounds baroque played on pipes sets a relaxing mood.
Accordionist Xosé Lois Romero moonlights in another group, Engado (or maybe it is the other way around). On this groups recording, "Nova Galega De Danza" falls easily into Latin jazz. Out of the recordings reviewed in this article, this one feels the most urban. Traditional percussion meshes with a jazz kit drum and vibraphone, then pipes, bass, saxophone and accordion top off the recording.
During one moment, I am reminded of Cal Tjader and the musicians from the music documentary "Calle 54"but during another, a different moment, I feel like I am taking a little jaunt through the Spanish countryside. "Imaxinasons" acts as one of those countryside jaunts. Romero's accordion bounces along over jazz drum beats and is joined by Pedro Lamas' soprano saxophone and José Belmonte's vibraphone. Engado provides another community radio-friendly CD and I am sure NPR and world music programmers are going to be leaping on this one soon, especially jazz programmers.
The final recording, "Home" by piper Xosé (did most Galician parents named their sons Xosé), Manuel Budiño provides a contemporary Galician Celtic folk sound. Budiño however tends to clutter his mix with bits of programming. He does perform the Galician pipes with aplomb and is joined by a fine array of traditional musicians. "Home" provides some lovely melodies and intricate rhythms. But for my ears, this recording sounds too modern and borders on folk-pop. And I imagine that younger generations will grasps onto "Home" which helps preserve Galician traditional music in the future. Oh and by the way, it's also hard not to overlook the piper's ravishing looks.
So this ends the Galician musical journey. I am dedicating this article to my sister Isabel (Elizabeth) who introduced me to Galicia and who is also at this moment, walking "El Camino". And also thanks to Angel for introducing me to music from all over Spain.
Patricia Herlevi hosts the healing music blog, The Whole Music Experience. She also has been contributing to World Music Central since 2003. She adores music performed on acoustic instruments.
Recordings reviewed:
Real Banda de Gaitas – El Camino
Uxía –

Eterno Navegar

(World Village)
Nordestinas (Abe Rábade, Guadi Galego & Ugía Pedreira) – Nordistina (Falcatruada)
Lizgairo – Diacronías (Falcatruada)
Vaamonde, Lamas & Romero – Vellas Artes (Falcatruada)
Engada – Nova Galega De Danza (Falcatruada)
Xosé Manuel Budiño –

Home

(Falcatruada)
Other recommended recordings:
Author:
PatriciaHerlevi
Patricia Herlevi is a former music journalist turned music researcher. She is especially interested in raising music consciousness. She is looking for an agent and publisher for her book Whole Music (Soul Food for the Mind Body Spirit). She founded and hosts the blog
The Whole Music Experience and has contributed to World Music Central since 2003.