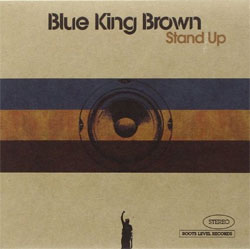 Blue King Brown – Stand UpStand Up (Roots Level Records, 2009)
Considered one of the hottest acts out of Australia, Blue King Brown's kick ass urban roots sound encompasses a powerhouse mix of reggae, rock and hip hop. Colored by deliciously wicked funky grooves, potently piquant Latin percussion and socially conscious lyrics, Blue King Brown's Stand Up is a collection of sizzling tracks with a moral code.
The groups lead singer and guitarist Natalie Pa'apa'a and bassist and guitarist Carlo Santone wrote and produced all the songs, while percussionists Salvador Persico and Julian Goyma, organist and pianist Sam Cope make it come alive with the help of backup singers Jade Macrae, Mahalia Barnes, Christin Deralis. Violinist Cleis Pearce, percussionist Greg Sheehan, saxophonists Matthew Ottignon and Nick Bowd, trombonist John Hibbard, trumpeter Same Golding, along with the Brown Roots Collective of Grace Vanilau, Pat JNR Sili and Mark Vanilau also add their talents to Blue King Brown's mix.
Kicking off Stand Up with the song "Come and Check Your Head," Blue King Brown offers up a composition dominated by razor-sharp percussion, Ms. Pa'apa'a's finely pointed vocals, dishy organ grooves and some sassy backup vocals. Reggae heavy grooves like "Stand Up" and "Keep It True" lavish the listener with sinfully driven percussion, playfully curvy backup vocals and Ms. Pa'apa'a's gritty lead vocals. "One Day," with dashes of a retro edge, blazes with brass and organ.
Sporting a heady mix of guitar and percussion, tracks like the gutsy "Us and Them" and the hard-driving "Don't Let Go" show off a sound that crosses over genre with impudent grace and dauntless talent. Listeners get a break with the easy sweep and soulful "Samoa's Song," but "We Won't Go" is just stunning with dizzyingly, Carlos Santanaesque Latin percussion, flashes of funk-inspired organ lines and jazzy call-and-response vocals.
Stand Up is a lusty brew with a lionhearted world vision. With Blue King Brown leading the revolution, followers and fans won't be far behind.
CDs available in North America: Stand Up and Blue King Brown
More information about the band and their CD:
Author:
TJ Nelson
TJ Nelson is a regular CD reviewer and editor at World Music Central. She is also a fiction writer. Check out her latest book, Chasing Athena's Shadow.
Set in Pineboro, North Carolina, Chasing Athena's Shadow follows the adventures of Grace, an adult literacy teacher, as she seeks to solve a long forgotten family mystery. Her charmingly dysfunctional family is of little help in her quest. Along with her best friends, an attractive Mexican teacher and an amiable gay chef, Grace must find the one fading memory that holds the key to why Grace's great-grandmother, Athena, shot her husband on the courthouse steps in 1931.
Traversing the line between the Old South and New South, Grace will have to dig into the past to uncover Athena's true crime.