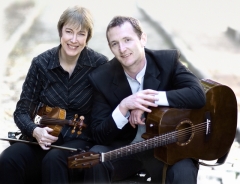 On March 17, 2009, Liz Carroll & John Doyle are scheduled to perform for President Barack Obama at the annual St. Patrick's Day luncheon at the Capitol Building in Washington, D.C. The event is hosted by Speaker of the House, Nancy Pelosi, and among the guests is the the new Taoiseach (Prime Minister) of Ireland, Mr. Brian Cowen. Previous entertainers at the event have included The Chieftains, Frankie Gavin, The Commitments, and Ronan Tynan.
Individually and together, Liz Carroll and John Doyle are among the most respected traditional musicians in Irish music today. Chicago-born Carroll won the Senior All-Ireland Championship at age 18, not a small feat for an American. Introduced to Irish music by his grandfather Tommy, Dublin-native Doyle was playing professionally by age 16, and soon joined an energetic collection of New-York based Irish musicians, including Seamus Egan, later giving birth to the Irish supergroup Solas.
Both artists continued their successes both with others, (Doyle with Solas and Carroll with Trian) and as solo artists. Carroll's Lost in the Loop, released in 2000, garnered an Indie Award and saw her named Traditional Performer of the Year for 2001 by the Irish Echo. Carroll will tour France and Sweden with the String Sisters, a collection of the world's top female string players, in 2010. Doyle, dubbed "a master finger-picker" by Acoustic Guitar Magazine, stretched beyond the instrument skills that drove his career to that point, recording two albums featuring vocals, the 2001 release Evening Comes Early and Wayward Son (2005). Doyle currently serves as music director and guitarist for folk icon Joan Baez
Carroll and Doyle's new release, Double Play(available in North America now), is one of those rare duo albums that holds a listener's attention from start to finish. The follow up to their critically acclaimed duo debut In Play, Double Play presents a honed road repertoire with a studio album that captures the essence, electricity, and lyrical nuance of their live shows.
Liz Carroll recordings available:
In North America: Double Play, In Play, Lost in Loop, Liz Carroll, Lake Effect, A Friend Indeed, Trian II, Kiss Me Kat, Train
In Europe: Double Play, Lost in the Loop, In Play, Liz Carroll, Lake Effect, Kiss Me Kate, A Friend Indeed
Author:
World Music Central News Department
World music news from the editors at World Music Central