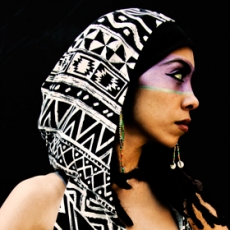 Coinciding with its 2009 North American tour, World Music Central's TJ Nelson interviewed Blue King Brown's frontwoman Natalie Pa'apa'a. Hailing from Australia, Blue King Brow has shared the stage with Damian Marley, Julian Marley, Santana, Michael Franti & John Butler, and has performed at International events such as Al Gore's historic Live Earth concert, Fuji Rock, Summer Sonic and Shambala Festivals. Blue King Brown continue to tour extensively in Australia, Japan and North America garnering fans by rocking festivals, clubs and dancefloors as an 8 piece powerhouse that is simply one of the best live acts to come out of Australia in a long time.

Can you tell us a little about how the group Blue King Brown formed?

Blue King Brown started off as the bass player and myself making music together as percussionists. We toured and performed in festivals and on the streets, which is where we learnt the fundamentals of being independent artists. We then moved to the cultural centre of Melbourne City to surround ourselves with it's arts community and create a band that included a more traditional songwriter line up but that kept the raw and highly rhythmic elements of our percussive background.
Could you tell us about the musical influences most important to Blue King Brown?
Fela Kuti, Bob Marley and the Wailers, Ernest Ranglin, Farafina, Janis Joplin, Ira Kere, Santana, Miles Davis, Marvin Gaye, Nina Simone.
Has the band experienced any evolution in its sound over the course of recording and touring? Any growing pains with that evolution?
As artists and a group we hope we are continually evolving…we have definitely seen the depth of our influences expand from touring in other countries and have seen that be reflected in our own music. Our consistent touring in Australia and overseas has seen our live performances continue to grow and develop, and keep us on our toes to deliver solid and varied performances.
In the studio with our second album, our sound has grown to encompass a wider range of modern sounds and a lot more production. We've been spending many hours programming beats to add to our live drums, writing melodies on synths and other sounds to compliment our live instrumentation.
The liner notes for Stand Up dedicate the CD to the "people worldwide who Stand Up on a daily basis in resistance against injustice." What message or mantra does the band hope American fans will come away with from your tour?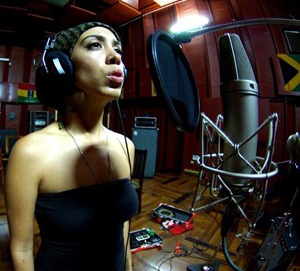 That in towns, villages and cities around the world, places seen and unseen, heard of and un heard of, there are people just like you and me, just like us, who are conscious in this present day movement and are ready to start and have already begun crafting a future that is sustainable, peaceful and strong in moral standards. For far too long it seems we have let politics, big business and corporate greed use our planet as a means to make profit without care or consequence to the environmental, spiritual, economic and human impacts they have. And so people everywhere are taking matters into their own hands, becoming engaged and involved in positive social change and really making a difference…
So none of us ever need to feel alone when we're standing up for our people and our planet!
In this age of economic turmoil, what message is Blue King Brown hope to impart to the underpaid and overworked?
Get them solar panels, water tanks, grow a veggie garden… harvest what is real, what u can touch and see and what you know will put food in your belly and light in your soul at the end of the day…
In the blending of world music genres, does Blue King Brown see that as the way of the future of world music?
Perhaps as one branch of world music, I love to hear what's new and how African artists are collaborating with Brazilian artists and Indian classical musicians are combining with Spanish Flamencos, but I also hope that there is always that documentation of traditional styles and sounds of the music of the world and the new rising stars within those realms.
What other world music genres, groups or CDs are you currently listening to?
Etran Finatawa, Ini Kamoze, Geoffrey Gurrumul Yunipingu, Tony Allen, Bassekou Kouyate & Ngoni Ba, Cee-Lo Green.
What's your favorite part of touring? The worst? What has been your experience on this tour so far?
My favorite part of touring is seeing the cultures of different places and meeting the people and artists that go with them.
Least favorite part of touring is loading an elaborate 8 piece band set up on and off stage every night, that and late nights coupled with early lobby calls… So far on this tour it has all been very enjoyable though, from our shows in NYC and Washington to Boston and Montreal, we've been having a good time and getting great responses from our audiences.
Some people think there's nothing new to be invented in music. Do you agree? What kind of music would you invent?
Surely no one could really think that! There is always new sounds on the horizon and more on the brew…especially with the ever growing amount of possibilities with advancing technology.
Stay tuned for new music inventions by Blue King Brown….
What's next for Blue King Brown?
We head back to Australia to play a couple of our favorite Australian festivals 'the East and West Coast Blues and Roots Festivals' then we head straight back into the studio to continue the completion of our 2nd album….Looking again at bringing our sounds across the seas mid to late year and reconnecting with some of the places previously visited as well as reaching out to new and un trodden territories.
Buy their CD: Blue King Brown
Related stories: Blue King Brown, Australia's Hottest Urban Roots Export Touring North America with John Brown's Body
Artist Website: www.myspace.com/bluekingbrown
Artist Live Show Clip:
Author:
TJ Nelson
TJ Nelson is a regular CD reviewer and editor at World Music Central. She is also a fiction writer. Check out her latest book, Chasing Athena's Shadow.
Set in Pineboro, North Carolina, Chasing Athena's Shadow follows the adventures of Grace, an adult literacy teacher, as she seeks to solve a long forgotten family mystery. Her charmingly dysfunctional family is of little help in her quest. Along with her best friends, an attractive Mexican teacher and an amiable gay chef, Grace must find the one fading memory that holds the key to why Grace's great-grandmother, Athena, shot her husband on the courthouse steps in 1931.
Traversing the line between the Old South and New South, Grace will have to dig into the past to uncover Athena's true crime.