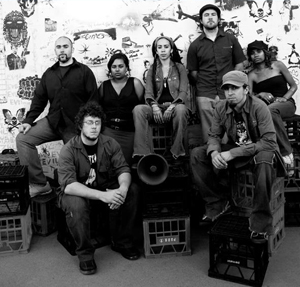 Blue King Brown is touring North America y as part of their Moment of Truth Tour. This is Blue King Brown's third tour of North America over the last 16 months and they are simply one of the best groups to come out of Australia in a long time.

Touring extensively in Japan, Australia, Canada, and the USA; this 8 piece urban roots band is proven to be breaking ground in the urban roots and youth movement world teaming up with the likes of Damian Marley, Santana and Michael Franti on shows globally. For the March Tour they will be supporting urban-reggae artist John Brown's Body for most of the run.
Blue King Brown's live show is an explosive expression of groove, urban beats, hard hitting lyrics mixed in with sultry, smooth vocal styling's from Natalie Pa'apa'a and more. The rhythm section punches and is tight as you'd want it to be and the set features many surprise to keep you on your toes featuring percussionist and keyboard leads that add flare and at times the deliciously strong backup vocal section takes the spotlight – making it a family affair on stage and the dance floor for all.
Blue King Brown Moment of Truth Tour Schedule
Thu March 5, 2009 New York, NY -The Mercury Lounge (w/ Rustic Overtones)
Fri March 6, 2009 Washington, DC – The Rock & Roll Hotel (w/ Rustic Overtones)
Wed March 11, 2009 Montreal, Quebec – Les Bobards
Thu March 12, 2009 Toronto, Ontario – Revival (CAN Music Week)
Fri March 13, 2009 Chicago, Il – Subterranean
Sat March 14, 2009 Minneapolis, MN – Cabooze
Wed March 18, 2009 Austin, TX – COPA (part of South by Southwest)
Thu March 19, 2009 Boulder, CO – Fox Theatre (w/ John Brown's Body)
Fri March 20, 2009 Engelwood, CO – Gothic Theatre (w/ John Brown's Body)
Tue March 24, 2009 Banff, Alberta – Wild Bills
Wed March 25, 2009 Nelson, British Columbia – Finley's Irish Bar and Grill
Thu March 26, 2009 Vancouver, British Columbia – The Biltmore
Sat March 28, 2009 Fort Collins, CO – Aggie Theatre (w/ John Brown's Body)
Mon March 30, 2009 Salt Lake City, UT – Murray Theatre (w/ John Brown's Body)
Wed April 1, 2009 Lake Tahoe, NV – MontBleu Resort Casino (w/ John Brown's Body)
Thu April 2, 2009 San Francisco, CA – Independent (w/ John Brown's Body)
Fri April 3, 2009 Los Angeles, CA – Roxy (w/ John Brown's Body)
Sat April 4, 2009 Solana Beach, CA – Belly Up (w/ John Brown's Body)
Buy their CD: Blue King Brown
Related stories: Interview with Blue King Brown's Frontwoman Natalie Pa'apa'a
Author:
World Music Central News Department
World music news from the editors at World Music Central