After half a decade, Juan de Marcos & Afro-Cuban All-Stars will bring the best of Cuban music to over forty cities in the United States, including Berkeley, Chicago, Cincinnati, Dallas, Miami, Minneapolis, New York, New York, Seattle, Tampa, and Washington, among dozens in between.
The man behind the Buena Vista Social Club, Cuban bandleader, producer, and extraordinary impresario Juan de Marcos, has been forced to lay low on the American circuit since 2002, when politics slammed the door in the face of some of Latin music's most adored artists. "We used to perform in the U.S. every year starting in 1994, when I went for the first time with my group, Sierra Maestra. We toured the whole country. Then musicians from Buena Vista started to tour, with great success and their own bands we put together, for many years. But in 2003, everything stopped."
Now, de Marcos has brought together the cream of Cuba's expatriate musicians, friends, and long-time collaborators who happen to live abroad and are not subject to the current ICE (Immigration and Customs Enforcement) restrictions for Cuban residents traveling to and performing in the U.S.
Many of the musicians in the Afro-Cuban All Stars will be delightfully familiar to fans of artists like Ibrahim Ferrer or Omara Portuondo, as they formed the core of the unique ensembles that backed the Cuban music greats who the world rediscovered through de Marcos' efforts. Others, such as percussionist Calixto Oviedo, have backed international stars from James Brown to Sting. The band will be playing new songs, as well as a few carefully chosen, well-loved Cuban favorites.
In putting together the band, de Marcos has aimed to find not only stellar musicians with the right passports, but also just plain good people with the right energy. "The energy that moves around the band is very important because you physically transmit to the audience," de Marcos explains, drawing on his doctorate in engineering to explain the special dynamics of Cuban performance. "This isn't some mystical force; it's all about the electromagnetic waves that the brain transmits and receives through the pineal gland. When you have really good positive energy, the audience gets it."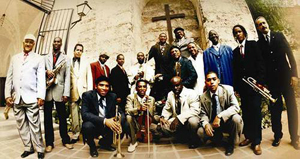 The incarnation of the Afro-Cuban All Stars on this tour brings together top Cuban musicians from the Americas and Europe in what promises to be the opening salvo in a new era of U.S.-Cuban cultural exchange. "It won't be long before the new U.S. administration allows for more cultural exchange. This tour stands to be the first in a new period of openness and appreciation for Cuban music, and perhaps the beginning of the end of the embargo itself," de Marcos smiles.
Afro-Cuban All Stars Line-Up for 2009 USA Tour
As its name implies, the Juan de Marcos and Afro-Cuban All Stars is more of a project than a band. Like an expert chef, Juan de Marcos changes ingredients with the seasons and the dinner guests. "This band will sound and even behave exactly like one coming straight from Havana," says de Marcos with a laugh. "Cubans never change and if you've been in Miami you'd know what I mean; dominos, mojitos, pork, chicharrones, and all!" The 2009 tour includes the following band members culled from the cream of the Cuban diaspora around the globe:
· Ignacio "Nachito" Herrera (Minnesota), pianist and ex-musical director of Tropicana Orchestra and Cubanismo
· Calixto Oviedo (Stockholm), drummer, performed with Adalberto Alvarez, NG La Banda, Pacho Alonso, etc.
· Yaure Muniz (Madrid), Igort Rivas (Curacao) & Miguel Valdes (Vancouver), trumpeters, members of the Buena Vista Social Club, but also lead trumpet players with Paulo FG, Klimax, Tropicana Orchestra, etc.
· Alberto "Molote" Martinez (Amsterdam), trombonist, member of the original line up of Buena Vista Social Club, but also a featured member of Elio Reve's Orchestra, Cuban Symphonic Orchestra, etc.
· See online press kit for complete 2009 lineup. "It's not just these six players; they are all important!" declares de Marcos.
The group's Absolutely Live CD/DVD Afro-Cuban Infectious Energy set will be exclusively available during the tour.
Afro-Cuban All Stars: Tour Schedule
03/14/2009, Sat
Grand Rapids, MN
Myles Reif Performing Arts Center, 720 Conifer Dr.
Tix: $25, Doors Open: 7 pm, Show: 7:30 pm
# Ph: 218.327.5780
03/15/2009, Sun
Minneapolis, MN
Orchestra Hall, MN Orchestral Association 1111
Show: 7 pm
# Ph: 612.371.5600
03/18/2009, Wed
Urbana, IL
Krannert Center for the Performing Arts, 500 South Goodwin Dr.
Tix: $ , Show: 7:30 pm
# Ph: 217.333.6280 or 800-KCPATIX (527.2849) or purchase online.
03/20/2009, Fri
University Park, IL
Governers State University – Center, 1 University Parkway
Tix: $12-$60, Show: 8 pm
# Ph: 708-235-2222
03/21/2009, Sat
Toledo, OH
Valentine Theatre
# CANCELLED
03/22/2009, Sun
Cincinnati, OH
Aronoff Center / Procter & Gamble Hall, 650 Walnut St.
Tix: $25 / $32 / $38, Show: 7 pm
# Ticket office: 513.621.2787 or purchase online
03/24/2009, Tue
Oxford, OH
Miami University – Hall Auditorium
Tix: $13/ $25/ $26, Show: 7:30 pm
# Ph: 513.529.6333 or purchase online.
03/26/2009, Thu
Trenton, NJ
War Memorial Patriots Theatre, 1 Memorial Dr.
Tix: $18-$45, Show: 7:30 pm
# Ph: 609.984.8463
03/27/2009, Fri
Greenvale, NY
Tilles Center for the Performing Arts, 720 Northern Blvd.
Show: 8 pm
# Ph: 516.299.2752
03/28/2009, Sat
New York, NY
Town Hall Theatre, 123 West 43rd Street
Tix: $35-$60, Doors Open: 7:30 pm, Show: 8 pm
# Ph: 212.997.1003
03/29/2009, Sun
New Bedford, MA
Zeiterion Theatre, 684 Purchase Street
Tix: $33-$43, Doors Open: 6 pm, Show: 7 pm
# Ph: 508.997.5664
03/31/2009, Tue
North Bethesda, MD
The Music Center at Strathmore, 5301 Tuckerman Lane
Tix: $25-$48, Doors Open: 7 pm, Show: 8 pm
# Ph: 301.581.5100
04/01/2009, Wed
Charlottesville, VA
Paramount Theatre, 215 E. Main St.
Tix: $38.50-$49.50, Show: 8 pm
# Ph: 434.979.1922
04/02/2009, Thu
Hampton, VA
American Theatre, 125 East Mellen Street
Tix: $25-$30, Doors Open: 7 pm, Show: 7:30 pm
# Ph: 757.722.2787
04/03/2009, Fri
Greensboro, NC
Carolina Theatre, 310. S. Greene St.
Tix: $22.50-$24.50, Doors Open: 7 pm, Show: 8 pm
# Ph: 336.333.2605
04/04/2009, Sat
Atlanta, GA
Variety Playhouse, 1099 Euclid Ave.
Tix: $25-$35,
# Ph: 404.524.7354
04/07/2009, Tue
Ft. Pierce, FL
Sunrise Theatre, 117 S. 2nd St.
Tix: $39-$45, Doors Open: 6 pm, Show: 7 pm
# Ph:772.461.4484
04/08/2009, Wed
West Palm Beach, FL
Raymond F. Kravis Center for the Arts, 701 Okeechobee Blvd.
Tix: $25-$75, Doors Open: 7 pm, Show: 8 pm
# Ph: 561.833.8300
04/09/2009, Thu
Tampa, FL
Ferguson Hall, Tampa Bay Performing Arts Center, 701 Okeechobee Blvd1010 N. W.C. MacInnes Place
Show: 8 pm
# Tickets may be purchased through TBPAC's ticket office at 813.229.STAR(7827) or 800.955.1045 outside the Tampa Bay area, or purchase online. For more information: tickets@tbpac.org.
04/11/2009, Sat
Miami, FL
Knight Concert Hall, The Adrienne Arsht Center for the Performing Arts, 1300 Biscayne Boulevard
Tix: $31.25-$71-25, Doors Open: , Show: 8 pm
# Box office hours M-F 10 am to 6 pm and Saturday/Sunday noon till curtain time when there is a performance. Please call 305/949.6722. The box office is also open two hours before every performance. Or purchase tickets online.
Author:
World Music Central News Department
World music news from the editors at World Music Central