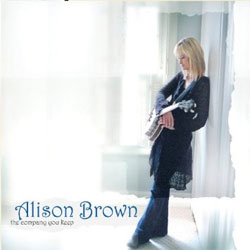 Renowned banjoist Alison Brown, will release a new CD and bonus DVD titled The Company You Keep on April 7, 2009. Included with the first 5000 copies of the album shipping to retail is a free full length concert DVD taped live at Vanderbilt University (Nashville, Tennessee). The DVD, which was filmed in HD and recorded in high res audio, features the Alison Brown Quartet with Joe Craven on a set that includes tunes from The Company You Keep as well as fan favorites from past albums.

The title of Alison Brown's new studio release, The Company You Keep, was originally inspired by the words of Spanish novelist Miguel de Cervantes (Don Quixote): "Tell me The Company You Keep and I'll tell you what you are." But it wasn't until the project began to develop that Brown realized the title actually held two separate, but equally important, meanings for her and for her music. "I've been writing, recording and performing my own tunes for nearly 20 years now," Brown reflects. "And as I thought about the progression of my sound – our band sound – I began to think about what a collaborative effort this musical journey has been. After 15 years of recording, performing and philosophizing about music with (pianist) John R Burr and (bassist) Garry West, I really wanted to draw that collaborative spirit to the forefront on this album."
The Company You Keep features the musicians she has spent most of the past 15 years performing with: John R. Burr (piano), Garry West (bass), David Grisman Quintet alum Joe Craven (fiddle/mandolin/percussion) and Larry Atamanuik (drums) alongside guests John Doyle (guitar), Stuart Duncan (fiddle) and Kenny Malone (drums) on a set of engaging, upbeat and melodic tunes, many of which were co-written by Brown and Burr, in some cases right before the recording sessions.
According to Brown, The Company You Keep is also a tip of the hat to her approach to business as one of the co-founders of the Compass Records Group. "I co-founded Compass with Garry West the same year that I began touring with my own band so the development of the label and the development of the band have grown up in tandem, even though I didn't release an album on Compass until 1998." At a time when the record business is being turned upside down the Compass Records Group has continued to grow and today boasts nearly 600 releases across the Compass, Green Linnet and Mulligan Records catalogs. "Our artistic aesthetic is very well described by the idea that the company we've built and sustain (both in our roster and our staff) reflects our values and musical priorities. We take a very long tail approach to our business and feel a great sense of pride in having built a business model that is scaled to be successful with records that may only sell a few thousand units. Some of our smallest records say more about us as a label than our biggest selling records do."
Alison Brown is a Harvard alum, received her MBA from UCLA and worked as an investment banker before joining Alison Krauss and Union Station for a three year stint in 1989. She has received 3 GRAMMY nominations for her solo recordings and a GRAMMY award in 2001 for Best Country Instrumental Performance as well as the International Bluegrass Music Association's award for Banjo Player of the Year. Praised by both fans and critics alike, her take on the traditionally Appalachian instrument has earned Brown features on CBS Sunday Morning, NPR's All Things Considered, and in The Wall Street Journal. The Company You Keep will be available everywhere April 7, 2009.
Alison Brown recordings available:
In North America: The Company You Keep, Stolen Moments, Alison Brown Quartet – Live at Blair with Joe Craven, Quartet, Best Of The Vanguard Years, Fair Weather, Evergreen, Replay, Look Left, Twilight Motel, Out of the Blue
Author:
World Music Central News Department
World music news from the editors at World Music Central