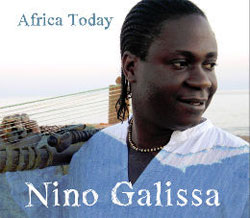 Nino Galissa
Africa Today (Griotsound, 2008)
Kora player Bubacar Galissa Kouyaté (stage name: Nino Galissa) comes from Guinea Bissau. Although located in West Africa, surrounded by former French colonies, Guinea Bissau was colonized by the Portuguese and that gives Galissa's kora sound a distinctive twist. Galissa's style on Africa Today is an appealing mix of acoustic and electric, including traditional Manding music, high energy mbalax (influenced by Baaba Maal and Youssou N'Dour), pop music from his native Guinea Bissau and reggae.
Galissa is now based in Spain and he has added new languages to his abilities. The songs on Africa Today are in English, Manding, Criol, Fula, Spanish and Catalan. The double set includes the CD and a DVD with music videos and live performances.
Nino Galissa has a passion for social justice. He uses his kora to expose social problems and to make people aware of them. This way of understanding music connects perfectly with his Griot tradition. Galissa sees this as a continuation of the tradition and an adaptation of the heritage of his family and his culture to present times.
Galissa was born in the Gabu region of Guinea Bissau, where some of the roots of the griot's tradition are to be found. His father, Buli Galissa, was a very important person during his lifetime. Buli Galissa is still remembered for his many achievements. Buli became an iconic figure for Guinean society because he was considered the best kora player and because he was the first griot who introduced the kora into Portugal during the colonization period, when he played the national anthem of Portugal and thereby showing the possibilities of using a traditional African musical instrument to perform new songs. His kora can still be seen in the Anthropological Museum in Lisbon.
Nino's father was also a "Djali Mansa" (Griot King) as a result of being the most important adviser, mediating social conflicts or conflicts between Kings, be they Fulas or Mandings. Finally, Buli Galissa was also called "the father", educating and introducing the art of the kora to the first generation of Gabu griots to which Nino Galissa belongs. This generation travelled from the region of Gabu to other parts of West Africa.
Galissa runs his own management company and record label: www.griotsound.com.
Author:
World Music Central News Department
World music news from the editors at World Music Central