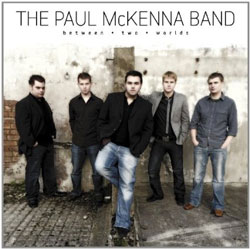 The Paul McKenna Band has a new album, titled Between Two Worlds (Greentrax CDTRAX 333), that >was recorded at Sound Sense, Moffat, by Kris Koren and John Weatherby and mastered by Peter Haigh at Pier House Studios, Edinburgh. It was produced by The Paul McKenna Band, with assistance and guidance from Dick Gaughan.
Combining their love for traditional and folk music as well as original songs and tunes, The Paul McKenna Band has been playing to audiences throughout the U.K. since 2006. With a contemporary approach to songs, although not straying too far from their roots, their arrangements are both fresh and innovative. The Band consists of singer/songwriter Paul McKenna (guitar); David McNee (bouzoukis); Ruairidh Macmillan (fiddle); Sean Gray (flute and whistles); and Ewan Baird bodhran).
Their sound is created through outstanding vocals, driving guitar and bouzouki, intense fiddle-playing, a warm pairing of flute and whistle and dynamic bodhran/percussion. Ruairidh Macmillan is through to the finals of the BBC Radio Scotland Young Traditional Musician Awards at the 2009 Celtic Connections. Paul has been described as 'having a voice that will stay with you, with a haunting quality that can make the most ordinary songs memorable'.
Buy the CD:
Author:
World Music Central News Department
World music news from the editors at World Music Central