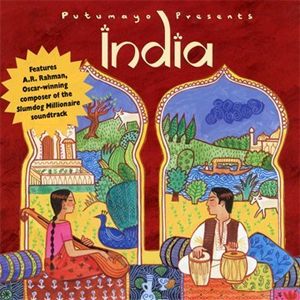 Various Artists
Putumayo Presents: India (Putumayo World Music, 2009)
Putumayo World Music has embraced the kaleidoscope of colors of India with its upcoming release of Putumayo Presents: India CD and the book India: A Cultural Journey, both set for release February 24, 2009. Fans can now simultaneously read about the vibrant cultures that make up India and listen to some of the country's latest musical treasures. Through photographs by Laurence Mouton and Sergio Ramazzotti and the musing of travel writer Catherine Bourzat, as well as a musical dip into modern India's classical, acoustic folk and Bollywood music scene, both book and CD will ensnare readers and listeners with the tantalizing spell that is India.
As an extra special bonus a portion of the sale of the CD will be donated to support the India Foundation for the Arts, so fans can get all warm and fuzzy about supporting a good cause as they revel in the splendid music of India.
I do not envy the work of Putumayo's compilation staff, because faced with the extraordinary talent pool in Indian's music scene any compilation I could come up with would be hundreds of tracks and not nearly as perfectly picked as India's ten, neat tracks. And this CD has it all with the Bollywood film Rehnaa Hai Terre Dil Mein's romantic song "Zara Zara" by the lovely Bombay Jayashri, Niraj Chag's fresh and sweeping "Khwaab" with ghazal singer Swati Natekar and wonderfully subtle "Ganesha" by bansuri master Depak Ram that postively sizzles with the interplay between bansuri, tabla and Eduardo Niebla on Spanish guitar.
Guitarist Sanjay Divecha offers up the smoothly jazzy "Naino Sey," accompanied by vocalist Kailash Kher. Santoor master Pandit Satish Vyas lends his talents with the rich fusion of world music elements on "Homeward Journey," but it's film composer A.R. Rahman's composition and vocals along with playback singer Chinmayee's vocals on "Tere Bina" from the hit film "Guru" that will be most familiar to devoted Bollywood fans.
India also offers Uma Mohan's elegantly modern devotional to Hindu god Shiva "Shiva Panchakshara Stotram/Shiva Shadakshara Stotram" and ghazal singer Kiran Ahluwalia's "Vo Kuch" against a harmonium backdrop and Bollywood singer, actress and dancer Rajeshwari Sachdev's brightly colored "Maavan Te Tiyan."
As with all Putumayo offerings, India is richly crafted with clever artwork, interesting liner notes and photographs, as well as a glossary of instruments. Making sure fans achieve the whole India experience, Putumayo has included in the CD's liner notes a recipe for Sweet Saffron Pilaf with Nuts and Currants submitted by chef and New York restaurant Devi owner Suvir Saran. The only thing to do now is sit back and enjoy.
Buy the CD:
Author:
TJ Nelson
TJ Nelson is a regular CD reviewer and editor at World Music Central. She is also a fiction writer. Check out her latest book, Chasing Athena's Shadow.
Set in Pineboro, North Carolina, Chasing Athena's Shadow follows the adventures of Grace, an adult literacy teacher, as she seeks to solve a long forgotten family mystery. Her charmingly dysfunctional family is of little help in her quest. Along with her best friends, an attractive Mexican teacher and an amiable gay chef, Grace must find the one fading memory that holds the key to why Grace's great-grandmother, Athena, shot her husband on the courthouse steps in 1931.
Traversing the line between the Old South and New South, Grace will have to dig into the past to uncover Athena's true crime.