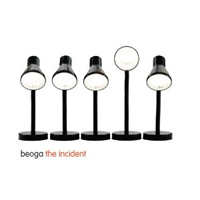 Beoga are very tight-lipped about the title of their third album, The Incident. "We are willing to disclose that the so-called 'incident' did occur on the road in 2008…perhaps I've said too much," bodhrán player Eamon Murray says with a wink. So much of what makes up The Incident, both in title and in musical delivery, truly captures the essence of Beoga, a self-described "trad band on anabolic steroids."

On The Incident, Beoga continues with the tight, lively and fiery tunes they've become known for – while of course adding nuances from a variety of other genres. The Incident hits the ground running with the "Lamped" set three boisterous, yet turn-on-a-dime tunes (polka/slide/reel). Niamh Dunne's soulful vocals stir on the Gospel-gone-Irish cover of Sister Rosetta Tharpe's "Strange Things". Special guest vocalist Ciaran Gribbin (aka 'Joe Echo'), swaps vocals with Dunne during the duet "On The Way", a cheeky song about a couple fighting in the car on the way to Donegal.
The Incident also revives the band tradition of laugh-out-loud funny liner notes. Although everyone in the band still refuses to fess up about what "the incident" actually is, there are enough other anecdotes that ultimately lent their names to tunes on the CD to keep the listener/reader entertained. One example is "The Flying Golf Club" set, which is based on band member Damian McKee's gone awry attempt to win a car by sinking a hole-in-one at a local amusement park. Beginning as a carnival-style polka before returning to their bouncy traditional sound, Beoga left the amusement park minus the car, down a club, but in hysterics. "It was possibly the funniest thing I've ever seen in my life," says Murray.
A five-piece traditional Irish band based in County Antrim, Beoga's unique sound features the twin dueling accordions of Seán Óg Graham and Damian McKee, four-time All-Ireland bodhrán champion Eamon Murray, pianist Liam Bradley, and one of Ireland's premier young singers, Niamh Dunne. Beoga's repertoire of fresh self-penned tunes, original covers, and inventive arrangements mark them as one of the most exciting acts to emerge from Ireland in recent years.
Over the last few years Beoga have performed at major Celtic and Folk festivals throughout Europe and the USA, including the Cambridge Folk Festival, the All-Ireland Fleadh, Dranouter, Tonder, Boston, Kansas, and Milwaukee Irish Festivals, the Guinness Irish Christmas tour of Austria, the Irish Folk Festival tour of Germany along with Solas and Kevin Burke, and the Irish Unplugged Tour of Holland with the Fureys and Davey Arthur.
In September 2007, Beoga performed live with the BBC Orchestra to a television audience of millions as part of the prestigious "Last Night Of The Proms".
Buy the CD or download:
Author:
World Music Central News Department
World music news from the editors at World Music Central