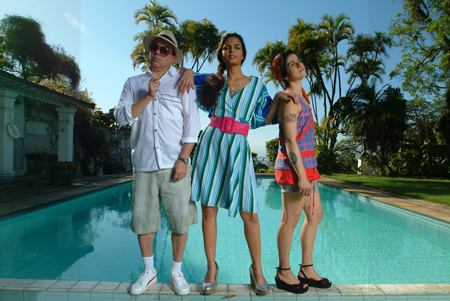 The Heineken TransAtlantic Festival, created by Miami's premier global music presenters Rhythm Foundation and which takes place throughout April 2009, showcases the city's peculiar position as the hip center of a whole new generation of global music: funk Cubano, cumbia glitch, Afrobeat mayhem, and the horn-heavy, hard-hitting sound of the city itself. This year's line-up features edgy Colombian roots rockers Aterciopelados, Yerba Buena songwriter and diva CuCu Diamantes, Fela Kuti's musical heir Seun Kuti, Swedish cosmic waif Lykke Li, the hot Afro-Brazilian trio Moinho, edgy Mexican jazz singer Ximena Sariñana, and the wildly creative Buenos Aires electronica collective Zizek.
"When I am imagining the artists of the Heineken TransAtlantic Festival, I see a kid who grew up in Bogota listening to the cumbia of his parents, while at the same time listening to Massive Attack," Rhythm Foundation Director Laura Quinlan reflects. "The same thing is going on with the Miami second generation. Their parents have Benny Moré on, but they are out in the clubs listening to trance. That's the focus of the Festival: the music that comes out of this kind of musician's imagination."
The Heineken TransAtlantic Festival is about more than simply presenting extremely cool music from the shores of the Atlantic; it's about creating a platform for collaboration in the middle of Miami's fractured cultural scene. "There are a lot of ethnic music festivals in Miami. Every country in Latin America has their independence festival," Quinlan explains. "And they are programmed to and marketed exclusively to those people. If it's a Haitian festival, every single person there is Haitian. If it is a Colombian Festival, the audience is all Colombian. It has always surprised me that there isn't more crossover."
Enter Rhythm Foundation, whose mission is to build cross-cultural audiences. The Heineken TransAtlantic Festival strives for another level of boundary hopping on top of bringing disparate communities together: to get the creative class and artists who put Miami on the map as a visual arts hotspot to merge with the global music scene. "In Miami, there are lots of young people running galleries and clubs, or working in new media. We wanted to reach out to them."
Artist line-up:
Aterciopelados: Aterciopelados manage to subvert all the assumptions about Latin rockers by playing music faithful to the rancheras, boleros, and salsa of their upbringing, while remaining wildly, musically creative and deeply engaged in social justice issues. Latin alternative with electronic overtones and a pychedelic, militant edge.
CuCu Diamantes: With family roots that stretch from Cuba to China, the gorgeous CuCu has been the female powerhouse behind Yerba Buena, the group that redefined Latin groove. Diamantes brings similar energy to her new solo project, combining jazz savvy and vintage glamour with the sly grit of New York and the pulse of tango, salsa, and Afro-Cuban beats. If Cucu and Yerba Buena had not been from New York, they would have been from Miami.
Seun Kuti: Seun began playing with his legendary father's band, Egypt 80, at the tender age of eight. He now leads the group, carrying on the Afrobeat torch. But Seun, whose heroes include Dr. Dre and Chuck D, is taking Afrobeat in his own, new direction, with original tunes and a fresh approach to a venerable tradition. In the midst of an Afrobeat rebirth, this is not like Fela Kuti's band. This is Fela Kuti's band.
Lykke Li: The young Li was raised by Swedish hippy parents on mountaintops in Portugal and on treks through India, listening to Madonna and dreaming of indie-pop stardom. Li's delicate songs resonate with a quirky, vulnerable intensity, backed by everything from steel drums to rippling guitars and breakbeats.
Moinho: Hailing from Lapa, the hottest 'hood in Rio and home of samba, Moinho bring heavy infusions of playful soul and funk to Brazil's Afro-beat inflected pop. Breathing fresh life into good old samba traditions, the trio is hot on trail of other Lapa legends, Brazilian breakthroughs like Cássia Eller (the Melissa Etheridge of bossa nova) and Carnival darlings Banda Eva.
Ximena Sariñana: Mexico's answer to Nora Jones or Camille, Sariñana grew up in a family of artists in Mexico's film industry and has transformed her dramatic heritage into captivating songs that hint at rock, pop, and soulful jazz. In her very first year as a recording artist, Sariñana has managed to rack up an MTV Latin America Award, a trio of Latin Grammy nods, and a Grammy nomination for Best Latin Rock or Alternative Album.
Zizek: Genres are clashing in Buenos Aires' hipster enclave of Palermo, and everybody wins. Club Zizek, where DJs spin everything from baile funk to minimal techno to bastard pop, has spawned a homegrown collective of producers, MCs, and DJs, and new, only-in-Buenos Aires club genres like jungle cumbia and electro reggaeton. Glitch meets Argentinean glitz and grit.
For more information visit www.rhythmfoundation.com.
Author:
World Music Central News Department
World music news from the editors at World Music Central