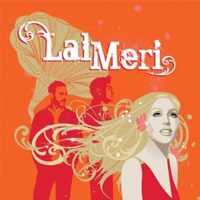 Lal Meri
Lal Meri (Six Degrees, 2009)
The hip, savvy sound of Lal Meri sizzles from the outset of their self-titled debut CD. Pooling the collective talents of Nancy Kaye, Ireesh Lal and Carmen Rizzo, Lal Meri is possessed of a brainy and bright international feel with enough savoir-faire in its trip-hop rhythms to keep fans firmly under the group's seductive spell. Vocalist Nancy Kaye, known for her pop and jazz work under the name Rosey, along with Ireesh Lal, musician, composer and arranger for groups Hot Sauce Johnson and Animastik, and finally Carmen Rizzo, a writer, producer and remixer for the likes of Seal, Coldplay and Niyaz, turn the sounds of their collective backgrouds inside out with Lal Meri, creating a world hip sound that's deliciously inviting.
Opening with an easy-going keyboard and synthesizer coolness, Lal Meri jumps headlong into "Dreams of 18," ripe with Ms. Kaye's dishy vocals, a slick beat and an Indian-tinged background. Dipping into a world lounge sound, "Borders" hooks the listener with a breezy sound full of funk programming and laced with Mr. Lal on trumpet. Tracks like the coquettish "Sweet Love" or the darkly nervy "Bad Things" or the sleek driving sounds of "My Ocean" ride on a sound saturated with smart rhythms, silky vocals and luscious instrumentation. The mysteriously exotic "Take Me As I Am" and the smoothly sly "More songs for the Moon" are lush journey, but it is title track "Lal Meri" that really soars with exotic instrumentation and plumy Hindi vocals.
In addition to keyboards, synthesizers and drum programming by Mr. Rizzo and Mr. Lal, Lal Meri features the Hindi vocals by Mr. Lal's cousin Pooja Lal, additional vocals by Natialie Warner, tabla by Satnam Ramgotra, keyboardists Jamie Mhoberac and Keefus Ciancia and Dmitri Mahlis on oud, bouzouki, saz and kumbush.
Crossing borders, combining musical spaces and melding genres, Lal Meri soars with a delightfully voluptuous sound. Fresh and flavorful, Lal Meri travels across the musical map and sings within a wholly singular sound.
Buy the CD:
Check out the Video for "Dreams Of 18"
Author:
TJ Nelson
TJ Nelson is a regular CD reviewer and editor at World Music Central. She is also a fiction writer. Check out her latest book, Chasing Athena's Shadow.
Set in Pineboro, North Carolina, Chasing Athena's Shadow follows the adventures of Grace, an adult literacy teacher, as she seeks to solve a long forgotten family mystery. Her charmingly dysfunctional family is of little help in her quest. Along with her best friends, an attractive Mexican teacher and an amiable gay chef, Grace must find the one fading memory that holds the key to why Grace's great-grandmother, Athena, shot her husband on the courthouse steps in 1931.
Traversing the line between the Old South and New South, Grace will have to dig into the past to uncover Athena's true crime.