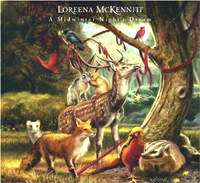 Loreena McKennitt – A Midwinter Night's Dream (Verve/Universal Music, 2008)
Acoustic World: Ireland (The Sixteen Productions, 2008)
Acoustic World: Persia (The Sixteen Productions, 2008)
Ablaye Cissoko & Volker Goetze – Sira (Obliqsound, 20080
I am happy to see that acoustic music recordings are still released and that musicians fuse various music traditions by employing handmade and more or less acoustic instruments. The following four recordings, two compilations and two regular releases, share acoustic instruments in common, but these musicians with the exception of Loreena McKennitt who brings the world to the musical table, appear to be focusing on their respective traditions.
Even on the fusion CD "Sira", where German trumpeter Volker Goetze performs jazz alongside West African kora player and vocalist Ablaye Cissoko, each musician brings his tradition to the musical marriage. Goetze does not play his trumpet like a West African instrument and Cissoko sings and plays his kora in the style of a West African musician. In fact, I think this musical approach where each musician retains his cultural identity while forging a cooperative venture is extremely healthy and we avoid the worse aspects of globalization.
Although Celtic Canadian, longtime harpist and vocalist Loreena McKennitt teams up with musicians from North Africa and Europe, the collection of holiday songs, "A Midwinter Night's Dream" feels like one heck of a world music jam session one would not want to miss. It feels odd reviewing a holiday music CD at the end of January, but it's closer to midwinter now than at Christmas time.
A few years back, the San Francisco based choir, Kitka had also released a CD of winter songs. I found that those songs could sustain me through the winter months. Of course Kitka was featuring polyphonic vocals from Eastern Europe and McKennitt featured actual carols sung around Christmas on her recording. These carols hail back in time and to their European roots. They focus on light with the ability to inspire listeners for changes ahead as we dig our way out of the effects of global warming and a frigid world economy. The story of the Christ child which is the theme of most of the carols on the recording is also the hope of light returning to an earth in peril. And you do not even need to be religious or spiritual-but-not-religious to appreciate light pouring into a dark space. It is healing no matter your beliefs.
McKennitt brings in some familiar musicians such as Dan Ar Braz, Caroline Lavelle, George Koller, Abdelli and Hossam Ramzy to this studio album. She also brings her signature vocals, harp, accordion, and piano to this tapestry of world music. And the artwork on the cover and booklet is exquisite. Even though the album is not 100% acoustic, it's overall sound and production fall into the acoustic vein.
Acoustic World brings us the who's who of Irish and Persian musicians on the respective discs "Ireland" and "Persia". The Irish CD features an array of Celtic instruments performed in mostly live settings. You hear fiery fiddles, passionate pipes, accordions, flute, piano, acoustic bass and a concertina performing jigs, reels, hornpipes and airs. Listeners might feel that they are hanging out in an Irish pub soaking in local color. However, the long list of musicians on this recording hails from the Celtic Diaspora so that would be some pub.
Classical Persian or Iranian music performed by Hossein Omoumi (ney), Sima Bina (vocals), Shahmirza Moradi (sorna), Madjid Khaladj (tombak) and Madjid Derakhshani (tar) fill up this recording. Since most of the Iranian music I have heard thus far has been mostly fusion projects of one kind or another, this is one of the first recordings of Persian traditional music played on traditional instruments in a traditional style I have heard. Although I suspect that my recording of the Dastan Ensemble also meets that claim.
My favorite CD in this review is Ablaye Cissoko and Volker Goetze' "Sira". Goetze's clarion trumpet meld with Cissoko's soaring vocals and shimmering West African harp. American style jazz meets West African music traditions in a spectacular fashion. I could not help wonder what would have happened if Miles Davis had traveled to Mali or Senegal back in the swinging 60s or the super cool 50s and beat bluesman Taj Mahal to the musical exchange between Afro-Americans and West Africans. Where would we be now musically speaking?
Goetze and Cissoko marry a sensual jazz trumpet with a medieval griot instrument, and for some reason this feels historic. The ten songs on "Sira" also feel healing, and not just relaxing to me. I don't have the right adjectives to describe the musical experience this disc offers. I encourage you to pick it up and give it a careful listen. I think the musicians speak clearly for themselves, punctuating their music with their love for their respective traditions and their passion for cultural exchange.
Buy the CDs:
Author:
PatriciaHerlevi
Patricia Herlevi is a former music journalist turned music researcher. She is especially interested in raising music consciousness. She is looking for an agent and publisher for her book Whole Music (Soul Food for the Mind Body Spirit). She founded and hosts the blog
The Whole Music Experience and has contributed to World Music Central since 2003.