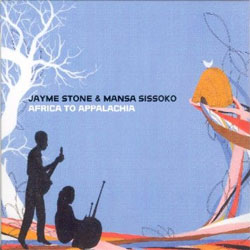 Jayme Stone & Mansa Sissoko
Africa to Appalachia (Jayme Stone, 2008)
A wonderful string music cultivation, combining the rolling earthy African roots music of Malian kora player Mansa Sissoko and the curiosity of accomplished Canadian banjo player, Jayme Stone. The result of Stone's journey to discover the musical roots of his own instrument and also to find out what other musical imprints were made in North America as a result of the transatlantic slave trade.
…and then he met Mansa, as he writes in the sleeve notes, "you just have to stand next to him to feel it. The lore. Tumbledown village music meeting the radiostatic modern world".
The thirteen songs comprise seven original compositions from Mansa Sissoko, which as far as I could find out seem to be his recording debut. The album opens with a soaring melodious track from Mansa, singing encouragement to the hunters to bring food, the kora, unobtrusive banjo and guitar working seamlessly.
We couldn't be in the Appalachians without the fiddle played here by Casey Dreissen in a particular winding serpentine way on Ninki Nanka, the song of a mythical snake and again with moody and edgy effect in From Tree to Tree.
Traditional Appalachian bluegrass tunes, June Apple and Chinquapin Hunting have had a going over by Stone to incorporate some of the African rhythms he soaked up in Mali. By placing June Apple in between the tunes, Dakar and Bamaneyake we get a sense of the history between the two traditions, something that Jayme's predecessors in the American folk movement were quick to acknowledge. The two strands come together perfectly in the later track Chinquapin Hunting.
This is one heck of an enjoyable album that swings from one side of the Atlantic to the other, from griots' songs of praise, through to a full on hillbilly hoe down. The more you listen to this album the more you notice the the subtleties, it just gets better and better and what a perfect way to round it all off, Kaira Ba with the addition of vocals from Katenen Dioubate, ngoni from Bassekou Kouyate and the banjo and kora in perfect synchronicity.
A classic has been cut.
Since first writing this review it has come to my attention that Mansa Sissoko has released a previous album which is available stateside, although currently not in the UK.
Buy the CDs or MP3 download:
A version of this was also published on http://www.gondwanasound.co.uk
Author:
Jill Turner
Jill Turner contributes to Songlines Magazine, World Music Central and is on the fRoots critics albums of the year panel. Her radio show GondwanaSound broadcasts on Sheffield Live! 93.2FM to the fourth largest city in the UK and is carried on both Radio Groovalizacion and African Internet Radio.